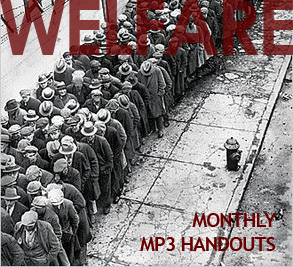 There's a lot of memory-lane action in this month's Welfare handout. Empanadamn and Lil Tiger caught a couple of cases of The Nostalgia, and it's definitely contagious. Thankfully, it's not lethal. Enjoy the tunes and the memories as we all ride out these dog days of Summer.
(Click the song names to take you to the off-site sharing pages where you can download the tunes. For detailed instructions on how to navigate the sharing sites where we host our files, we've got instructions at the end of this post)
empanadamn | All For One, Some For Y'all | Serato-ready
These next few come in support of this month's upcoming Sound Liberation Front Festival 2009 that the homie lil' tiger sank his paws into.
Brand Nubian "All For One"
This was the song that set it off for me. As soon as I heard it, I told my one friend who always had money (thanks to his loving, out-of-state living aunt & grandparents) that he had to buy it. Then I proceeded to make a copy of the cassette. Check the rhymes from Sadat (Derek) X: "Don't play possum / Watch me and I'll blossom like a rose, and get some new clothes…" Interesting choice in words given the controversial terms used in "Punks Jump Up".

Brand Nubian "Punks Jump Up To Get Beat Down"
In wake of Grand Puba leaving the group to pursue a solo career with Reel To Reel, Brand Nubian released In God We Trust. "Punks Jump Up" was definitely the stand-out track from the album, resonating as the riggiddy-raw credo among many at the time, perfectly chimed with the Rocky Theme. Posted is the clean, radio version because Sadat X's raps are nicer to people.

Mary J. Blige "What's The 411?" (Feat. Grand Puba)
Grand Puba puts it down on the queen of hip-hop soul blonde amazon's debut album. Big kid style.

Jean Carn "Don't Let It Go To Your Head"
Sampled 70s tune for the Foundation album.

Akinelye & Sadat X "Loud Hangover"
Promotional single in support of the Loud label coming into its own, this track later appeared on Funkmaster Flex's 60 Minutes of Funk, Volume 1. Lucky for you, this is without all the signature FMF yellin'.

*Did you know?: The homie DJ Tahleim, who also DJs at White Rabbit (Saturdays), was once a back-up dancer for Brand Nubian.
**Bonus attempt: I tried looking for the Sprite commercial with Grand Puba, but the man took it off YouTube. That commercial alone is the reason why I choose to drink Sprite over 7-Up or Sierra Mist. Aight?
—————
dj lil tiger | where'd you get your khakis at?
The Uniques – Queen Majesty
I don't really have much to say about this one. It speaks for itself — The Uniques with their rocksteady, classic interpolation of Curtis Mayfield. The Queen Majesty riddim stays timeless and keeps on giving.

Likwid Biskit – Life Is Like A Samba
I can be accused of talking about this dude too much, but I'm okay with that. IG Culture is a fucking genius. Deal. Here's a track from 10 years ago that he released under the Likwid Biskit monicker with fellow innovator and keyboard savant Kaidi Tatham, who shines his light all over this lovely tune. As always, ride this one all the way through and peep how IG flips the track.

Candi Staton – I'm Just a Prisoner (Of Your Good Lovin')
An early gem from soul and gospel legend Candi Staton, off of her I'm Just a Prisoner LP released in 1969.

American Analog Set – Gone To Earth
I recently had an indie rock time warp when I went to see Versus and Superchunk do a free show at the South Street Seaport. While I was there, I met up with my friend DRM (of Bastard Jazz fame), and AmAnSet worked its way into our conversation. Since then, I've been revisiting them and remembering why they were so awesome. This tune, off The Fun of Watching Fireworks LP was always one of my favorites. It's kind of perfect, especially how it comes together so brilliantly after the change.

Lorelei – Newsprint
Since we're taking a trip back, here's another favorite from my indie/twee/shoegaze days. I first came across Lorelei (not to be confused with either of my beloved Gilmores [yeah, I just went there] ) when I picked up their Asleep 7″ and ended up falling in love with a tune called "Mostly I Sleep." I was elated when they put out an album called Everyone Must Touch the Stove, and this tune quickly became one of my favorites. I love the energy and all the change-ups, especially the beautiful instrumental shift about three-and-a-half minutes in.

Bonus cut: Mad Kap – Dickie's Emporium
This actually should have been called Khaki's Emporium, but who cares? This shit still makes me laugh. Oh, Mad Kap.

—————
Don't forget to check out our Welfare archives.
—————
** INSTRUCTIONS FOR DOWNLOADING **
We host all our Welfare downloads off-site, so what you need to do to download them is to click on the song name in the post, and then look for a download link on the page that that takes you to.
We mostly use divShare, so for divShare follow these steps to download the songs:
– Click on the name of the song. That will take you to a divShare page.
– On the divShare page, look for the black circle with an arrow pointing down. Below that arrow is a link that says "Download original". Click that link and after a few seconds, the download should start automatically.
That should do it.
If the file is hosted on some other site besides divShare (like ZShare or MediaFire or something) then just look for a link on that site's page that says download. When you click on the download link, it will probably do something similar to divShare and make you wait a handful of seconds before it starts the download (or offers a specific link to the download).
Hit us up in the comments if you need further instruction. We're here to help. Thanks.