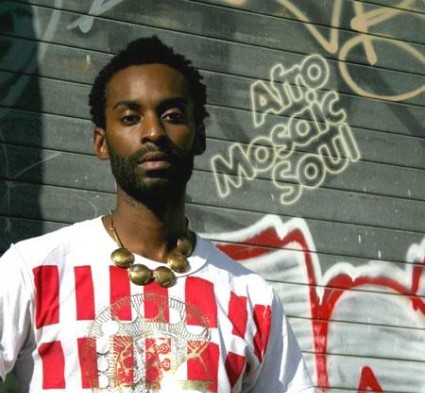 I had the pleasure of meeting Gibril Kuyateh, aka The GiKu Experience, last week in Brooklyn and immediately caught good vibes. Gibril is a member of AfroMosaicSoul, the Brooklyn-based dance and music collective that hosts the infamous Libation parties at the Sullivan Room in the Village.
A few days after I met him, Gibril sent me a mix he did recently for Soulkomplex Radio in Germany, and I really wanted to share it here. It's rich with deep, soulful African-inspired compositions that made for a perfect soundtrack to my weekend:
Here's how he describes the mix:
The goal with this mix was to create a visceral connection that transported the listener to Africa. Talks with DJ Sosue out of Germany were the inspiration. She produced this dope track along with Dele Sosimi (Fela's keyboard player) called Wahala Identity Mix … that set the tone when i re-mixed (aka re-experienced) the Wahala track blending it with "Angel Song" ft. Josh from Blaze. At that time, she asked me to do a guest mix for Soulkomplex. My shows can be heard on Giant Step and will be on SmoothTraxx in the next couple of weeks.
¬ CLICK HERE TO STREAM THE GIKU EXPERIENCE MIX ON SOULKOMPLEX RADIO
Here's the playlist:
01. Dwight Trible / Africa / Main / Ninja Tune
02. Dele Sosimi / Wahala Identity Mix / Sosue Soulkomplex Main Mix / Raw Artistic Records
03. Meitz / (Mayibuye I) Africa / Main / Airdrops
04. Osibisa / Jumbo / Main / Calibre
05. Blackcoffee Feat. Bucie / Turn Me On / Raw Artistic Soul Vocal Dub / Gogo Music
06. Johanna Saint Pierre / En Jaguar Beige / MKL Dub / Lion1 Music
07. Björk / Desired Constellation / Main / Polydor Universal
08. Jose Burgos / Dirty French Horns / Main / Deepa Grooves
09. Stevie Wonder / You And I / Main / Motown
10. Anto Vitale / Broken Wings / Orig. Instrumental / Tea Party Music
11. Josh From Blaze Ft. Chieko Kinbara / Angel Song / Main / Grand Gallery Japan
12. Dele Sosimi / Wahala Identity Mix / Sosue Soulkomplex Dub / Raw Artistic Records
13. Pacific Express / The Way It Used To Be / Main / Gull
14. Letta Mbulu / Whats Wrong With Groovin / GiKu Funk Box Mix / Random Records
In addition to DJing and producing music, Gibril also hosts dance workshops that teach kids what the AfroMosaicSoul crew refers to as the Mosaic Soul style of house dancing:
Mosaic Soul is the next evolution of dance. The newest form of African American social dance has risen from the underground. It carries the genetic traits of its forbears: African dance, Latin dance, tap, modern, popping & locking, break dancing(b-boying), hip hop, house dance, lofting and capoiera to name a few.
Here's some video of the AfroMosaicSoul dancers demonstrating some of that style at Libation's three-year anniversary back in April:
I first experienced the energy of AfroMosaicSoul at the Winter Music Conference in Miami a few years ago, and it left such a strong impression on me that I vouch for just about anything they get involved with. The vibe is right every time. Check out the stream of Gibril's Soulkomplex mix that I mentioned above. And keep The GiKu Experience on your radar.