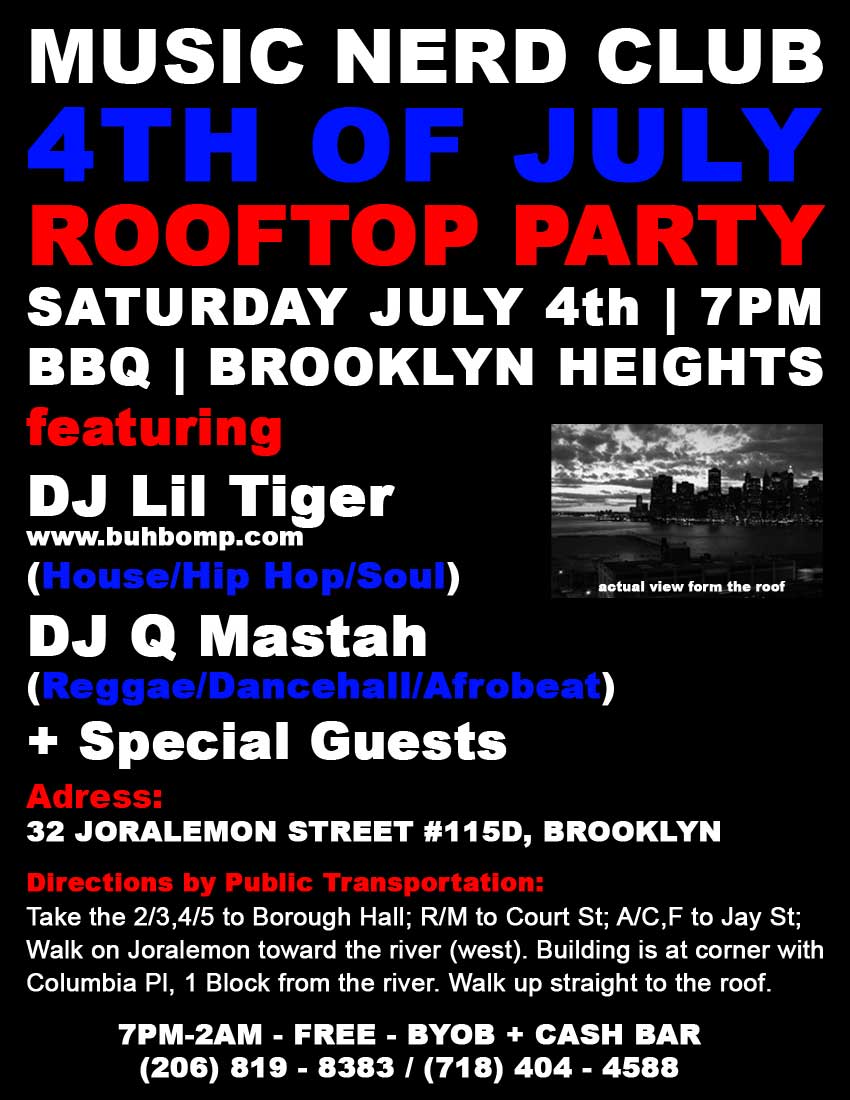 For all my NY peoples that are in town for the holiday weekend, I'll be spinning at a rooftop party in Brooklyn Heights on the 4th of July (Saturday). Come through and enjoy the food and music, and then head over to The Rub afterward to check out JD and Mel at The Rub's 7th Anniversary party. It's gonna be a big night all around. Here's the info on the rooftop party:
Music Nerd Club presents …
[[ 4TH OF JULY ROOFTOP BBQ PARTY ]]
SATURDAY | 04 JULY 2009
Mackenzie's Rooftop in Brooklyn Heights
32 Joralemon Street #115D
Brooklyn, NY 11201
206.819.8383 / 718.404.4588
/// description ///
If you're looking to avoid crowds, get away from cheesy parties, and are not that much into watching fireworks, come spend Independence day with BBQ, mojitos and good tunes on Mackenzie's sweet Brooklyn Heights rooftop. Q and Lil Tiger will bring the vibes with a blend of House, Hip-Hop, Soul, Afrobeat and Reggae. The rooftop is located one block from the waterfront and has a full, unobstructed view of the city. It's a remarkable view!
It's BYOB, or you can bring cash for the bar.
Hope to see y'all there and feel free to invite friends.
/// featuring ///
[[ DJ LIL TIGER ]] :: QUEENS
( –=(] buhbOmp [)=–, Touch and Feel Radio, Sound Liberation Front, Music Nerd Club, Soular Grooves, Haterzville )
www.buhbomp.com
[[ Q MASTAH ]] :: BROOKLYN
( Music Nerd Club, Sound Liberation Front )
bit.ly/musicnerdclub
7p-2a | FREE | BYOB + Cash Bar
¬ facebook event item
¬ ical/outlook
map:
+ google
+ hopstop
+ yahoo