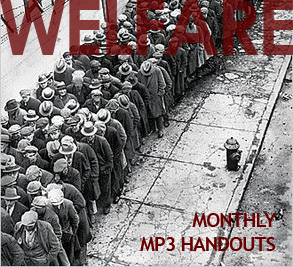 How the hell did June get here already? Here's another monthly Welfare handout from the buhbOmp crew to give you a boost while summer slowly kicks in.
(Click the song names to take you to the off-site sharing pages where you can download the tunes. For detailed instructions on how to navigate the sharing sites where we host our files, we've got instructions at the end of this post)
cashless | If you got a playlist, then you shoulda stayed home!
Little Dragon Feat. Trackademicks – After The Rain (Trackademics Remix)
*Sorry only a 192kbps file
I first heard Yukimi Nagano's soulful croonage over Sleepwalker's "Afloat" (big up to the dude Aser for dropping the knowledge gem way back in 2006) and she's been a name I've casually followed since. Here she is with the rest of her band, Little Dragon with some remix love from Bay Area producer Trackademics.

Sa-Ra – Bitch Baby
*Sorry only a 192kbps file here AGAIN
Seriously ill summer track that just happens to be the lead single from Sa-Ra's official debut album, Nuclear Evolution, The Age of Love. Make sure you cop this album when it drops!

Snap aka Red Clay – Live Learn
This man is a Houston legend. A staple in the underground hip hop scene here, Snap's always impressed me with vicious wordplay and even more dangerous delivery. Big ups to the crew over at Rappers I know, so leaking this.

The Dream – Walkin' on the Moon (UMYO Remix)
UMYO is yet another in a short line of Scandinavian producers that I'm rapidly becoming obsessed with. His treatment of Walkin' on the Moon mellows out the vibe a bit, but still keeps it's club compliance.

Floatingpoints – Lovemelikethis(ftps remix)
Ok, I need the venti latte pass with extra foam on this remix, but I'm making up for it with extra heavy early rotation. Holleur at it, folkels.

—————
dj lil tiger | on some nostalgia shit
Leela James – My Joy (Quentin Harris Vocal)
Classic deep house production from the legend Quentin Harris.

Cedric "Im" Brooks – United Africa
Uplifting little number from Jamaica's Cedric Brooks off his big band jazz/reggae album United Africa.

Joe Bataan – Chevere Que Chevere
Here's a funky, soulful, percussive tune from El Barrio's Godfather of Latin Soul, Joe Bataan, off his 2005 Call My Name LP. Black Filipinos stand up! Halfies stay winning.

Do or Die feat. Twista – Po Pimp
Dolla Holla Show classic. This is the tune that put Twista back on the map for me.

Fugazi – Sweet and Low
Since I'm traipsing through the sprawling fields of my youth, I'll throw in this favorite of mine from punk heroes Fugazi. This still gets me every time I hear it.

—————
empanadamn | spring 2009: you half-stepped.
Jay-Z "D.O.A." (Death Of Autotune)
F-auto-tune, hip-hop is dead, where the real MCs at?, yadda yadda. Who cares? I'm just happy to hear that Dion is staying busy. This song will not change the game.
 
Ellie Goulding "Starry Eyed" (Jakwob Remix)
This was hipped to me by Elz. Right now, this is it for me; the tune is getting played on repeat like I was a teenage girl in love. Now, I'm not totally into dubstep, but something about girly-pop vocals, dashes of xylophone and galloping drum change-ups against the low-end grit and grind that sounds like a giant electric can opener getting in a fight with a trash compactor that totally does it for me.

The Isley Brothers "For The Love Of You"
Not only sample worthy, but a stand alone, feel good track for that summer breeze steez.

Koop "Summer Sun" (Feat. Yukimi Nagano)
I discovered Koop while watching TV at a concert. Though I couldn't hear anything from the video, I was captivated by the style of the video with its layers, shapes and fast cuts, but moreover WHO THE HELL IS THAT HOT CHICK UP IN THERE SANGIN'?!?!? After reading the credits, I went home did the research and boom: Koop -> Yukimi Nanago. At the time, she was probably 16 or 17, so I'm totally a pedol' dirty-scum-bag. Forgive me for having taste in good music. Catch her group Little Dragon at SummerStage this July with an awesome line-up!
(Side note, Koop is the reason why Aser & I are friends.)

Sonny & Cher "I Got You Babe"
Last, but not least, this is a special dedication to some good, long-time friends Jamie & Wes. The two love birds went away to Paris a couple of weeks ago and returned engaged. So this one's for them – congratulations! I love you guys. (No auto-tune-o.)

—————
Don't forget to check out our Welfare archives.
—————
** INSTRUCTIONS FOR DOWNLOADING **
We host all our Welfare downloads off-site, so what you need to do to download them is to click on the song name in the post, and then look for a download link on the page that that takes you to.
We mostly use divShare, so for divShare follow these steps to download the songs:
– Click on the name of the song. That will take you to a divShare page.
– On the divShare page, look for the black circle with an arrow pointing down. Below that arrow is a link that says "Download original". Click that link and after a few seconds, the download should start automatically.
That should do it.
If the file is hosted on some other site besides divShare (like ZShare or MediaFire or something) then just look for a link on that site's page that says download. When you click on the download link, it will probably do something similar to divShare and make you wait a handful of seconds before it starts the download (or offers a specific link to the download).
Hit us up in the comments if you need further instruction. We're here to help. Thanks.