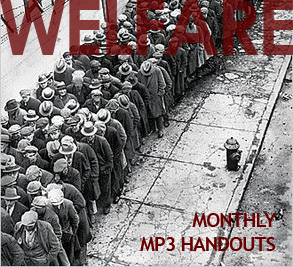 Welcome to the Cinco de Mayo edition of Welfare, where fake-Mexican Lil Tiger and real-Mexican Empanadamn each serve up five 5ives to get you through 5/5. (Not that we actually thought that far ahead and included anything remotely Mexico-related in our selections or anything. That would require planning and forethought. We don't really do that here.)
(Click the song names to take you to the off-site sharing pages where you can download the tunes. For detailed instructions on how to navigate the sharing sites where we host our files, we've got instructions at the end of this post)
empanadamn | May I?
The Alchemist "That'll Work" (Feat. Three 6 Mafia & Juvenile)
New cut off of The Alchemist's forthcoming Chemical Warfare. This beat is murderlous. The rapping is kinda third-rate, but hey, it's 2009!

Teairra Mari "Diamonds" (Feat. Kanye West)
I don't condone diamonds, so in exchange, I'll put this song on your finger. I don't care if you say no.

The Secret Handshake "Brand New Love"
An album cut from Dallas native Luis Dubuc's The Secret Handshake. My Name Up In Lights carries forward on that electronic rock / bubble gum / synth pop tip. I'm not really feeling the album on the whole. Dude needs to put the breaks on the auto-tune and mix it up with some females vocals. I'd be OK with instrumentals though.

Novalima "Yo Voy" (Seiji Remix)
Peruvian Afro-Latin blaps with the Seiji drum treatment. Escucha esto.

Datarock "New Days Dawn"
One of the more toned down cuts from the poppy/synth rock Norwegian duo's soon to be released album Red.

—————
dj lil tiger | I'm not a Mexican, but I used to play one back in Texas
Geraldo Pino and the Heartbeats – Afro Coco Soul (live)
Heavy West African funk and soul vibes from Sierra Leone's Geraldo Pino, an early influence of the man they call Fela Anikulapo Kuti.

Major Lazer – Hold The Line (Poirier remix)
Montréal's Ghislain Poirier (a recent addition to the Ninja Tune stable) puts his smoking hot Wha-La-La-Leng Riddim underneath the already intense debut from Major Lazer, the Diplo/Switch mega-collabo that got all the kiddies all twisted up. Mr. Lexx and Santigold on the vox, of course.

Organized Konfusion – Decisions
Here's a little gem I used to play endlessly during my moodier Hip-Hop days. This is off the America Is Dying Slowly compilation for AIDS awareness circa 1996. I forget how good Monch and Prince Po used to sound together.

The Aislers Set – Walked in Line (Live)
I miss The Aislers Set. They're one of my all time favorite bands, and it saddens me that most folks have never heard of them. I remain devout. This tune is a cover of Joy Division's "Walked In Line" from The Aislers Sets' sessions for John Peel (R.I.P.) in 2003 at Maida Vale. More detail about those recordings here.

Vanessa Freeman – Sunrays
The ever prolific Vanessa Freeman pours sunrays all over your soul. One of the more beautiful tracks on The Chromatic Universe compilation that Alex Attias put together back in 2002.

—————
Don't forget to check out our Welfare archives.
—————
** INSTRUCTIONS FOR DOWNLOADING **
We host all our Welfare downloads off-site, so what you need to do to download them is to click on the song name in the post, and then look for a download link on the page that that takes you to.
We mostly use divShare, so for divShare follow these steps to download the songs:
– Click on the name of the song. That will take you to a divShare page.
– On the divShare page, look for the black circle with an arrow pointing down. Below that arrow is a link that says "Download original". Click that link and after a few seconds, the download should start automatically.
That should do it.
If the file is hosted on some other site besides divShare (like ZShare or MediaFire or something) then just look for a link on that site's page that says download. When you click on the download link, it will probably do something similar to divShare and make you wait a handful of seconds before it starts the download (or offers a specific link to the download).
Hit us up in the comments if you need further instruction. We're here to help. Thanks.