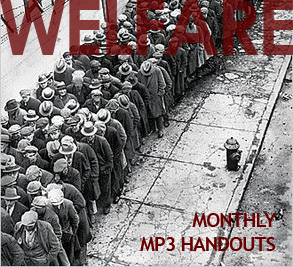 Now that the gloom and doom of Tax Day is behind us, we can return to the finer things in life, like desperately hoping we stay employed or fed or mobile or just plain sane as the rest of the world crumbles around us. With that in mind, your faithful and loyal representatives here at buhbOmp give you another installment of Welfare. It might not cure your financial troubles, but it will definitely help set your mind free. It's our own humble little stimulus package. Enjoy.
(Click the song names to take you to the off-site sharing pages where you can download the tunes. For detailed instructions on how to navigate the sharing sites where we host our files, we've got instructions at the end of this post)
cashless | Soured and salted 4life (Softhands edition)
Diamond District – I Mean Business
DC's producer du jour, Oddisee along with rappers X.O. and YU are Diamond District. I first heard Oddisee on Pete Rosenberg's A Rosenberg Oddiseemixtape (look at that cover artwork, I don't even need to tell you who's style that is) and have been checking for him ever since. I kinda picked I Mean Business arbitrarily, but it definitely gives off the boom-bappish feel of the album and Oddisee's production in general.

DJ Day – Skyy (Can you feel me)

Ok, this is a 2-parter from one of our favorite dudes in the game, DJ Day.
These are both haunting interpolations and anything I could say about them would do them no justice whatsoever, so I'll let the dude, Day, break it down in his own words. Via Like a Throttle
Tuesday, April 7, 2009
This is all Cosmo Baker's fault. I mean, I've always loved Saadiq going back to the TTT days, but hearing Cosmo's mix of his work really put it all in perspective. Raphael Saadiq is a genius. Period. Just listen and you'll see. From Tony! Toni! Tone! & Stevie Wonder to Q-Tip & DJ Quik, he is just that dude.
So, without jumping further on his nuts…fast forward a couple days later and I'm driving around town bumping this CD. "Still Ray" came on and stayed on and that's when I knew I had to re-do it (now I know how Dre must've felt). I came home and listened to it, figured out the piano part and played everything else from there. Once I was finished I called my man Miles Bonny to lay down vocals and trumpet like only he can and here it is, free for you. …
This was going to (and still might) come out on vinyl with another Saadiq cover I did that's an instrumental. I'll keep you all posted and I might just post it on the strength*.
*That track, "Skyy (Can you feel me)" is linked above.
Dãm-Funk – Kill Dat aka Kill Dat Muthafucka
Snoop Dogg, DJ Quik, Kat Williams, Suga Free & Dãm-Funk. What do these hood certified men have to do with each other? All have fabulous, silky, luxurious, bitch perms! I gotta get my shit did soon so I can show out on Butt Nekkid Wednesdays!

B.o.B. – I'll Be in The Sky (Astronote Remix)
Fact: B.o.B. is just straight up corny. Since Haterz Everywhere, B.o.B. has been on some after-school special shit. One more feelgoody two-shoes joint outta this dude, and I'm officially classifying him as a gospel rapper. Producer Astronote allows me to temporarily forget this.

—————
empanadamn | Skinnier than hip-hop
U.N.K.L.E. "Bloodstain"
This weather got me ag and reverting to my leave-me-be, emo skull thuggery. Here's a personal favorite, moody track with sad girl lyrics from DJ Shadow-produced UNKLE.

Junior Boys "Parallel Lines"
Junior Boys is not only Michael Jackson's favorite department to hang while at JC Penny's (just kiddin', homie), but a gleaming Canadian export implementing live instrumentation, production and vocals. This is the lead track off their most recent album Begone Dull Care.

Camera Obscura "Careless Love"
This Scottish outfit is a breath of fresh air / palate cleanser for a lot of stuff that I've been subjected to recently. It's musically clean without being sterile, inflecting light to heavy-heartedness throughout. Chicks (like me) really dig this stuff. Also, just to clarify, there's no bag pipes in this so don't get your hopes up, McScrooge.

Depeche Mode "In Sympathy"
Gotta give it up to these dudes. They've been putting out music, performing and touring for close to 3 decades. Their sixty-11th album Sounds Of The Universe, dropping later this month, continues the tradition of their later albums with the darknesses prevailing over their shiny-happy new wave beginnings. This one accomplishes being depressing and uptempo at the same time.

Prince "Let's Pretend We're Married"
I went to DJ Spinna's Soul Slam party last Saturday with my friend Minuette and while dancing Diddy pulled me into his circle of fun ( || ). After extinguishing my dancing shoes, I opened a Twitter account just to thank @iamdiddy, then filmed a live video blog on the spot to tell my friends around the world the news about Cassie's new half-shaved head. SIKE! (about the Twitter / v-blog part)

—————
dj lil tiger | tax-free
Estelle f. Kardinal Offishall – Magnificent
This song is catchy as hell, and I can't stop listening to it. I've also been a long time Kardinal fan, so that helps. Ronson got the touch.

Black Milk – Mo Power (right-click and save as)
Detroit's Black Milk are really doing it for me lately, and this tune is sick as hell. Short, but sick as hell. Dudes got the drum game down solid. (Proppers to Rappers I Know (as usual) for showing me the way.)
[audio:http://www.rappersiknow.com/media/blackmilk/Mo%20Power.mp3|titles=Black Milk – Mo Power]
JP ft Ash Man & Xei – Jungle Skank
This tune epitomizes everything I love about Funky House right now. Got the Afro-Caribbean tribal vibe. Got raw, sexy club feel with the proper low end. Got the change-ups. All kinds of unusual shit going on here, and I'm all about it.

Jah Cure – Searching
This is my favorite off the Indiscretions riddim. Jah Cure always brings the true emotion, and this tune makes me want to curl up next to my gal and pretend the rest of the world doesn't exist.

Mondo Grosso – Now You Know Better
This is off Mondo Grosso's MG4 album that came out in 2000, and it still sounds great. I'm also a sucker for anything that showcases Amel Larrieux's beautiful and mesmerizing voice.

—————
Don't forget to check out our Welfare archives.
—————
** INSTRUCTIONS FOR DOWNLOADING **
We host all our Welfare downloads off-site, so what you need to do to download them is to click on the song name in the post, and then look for a download link on the page that that takes you to.
We mostly use divShare, so for divShare follow these steps to download the songs:
– Click on the name of the song. That will take you to a divShare page.
– On the divShare page, look for the black circle with an arrow pointing down. Below that arrow is a link that says "Download original". Click that link and after a few seconds, the download should start automatically.
That should do it.
If the file is hosted on some other site besides divShare (like ZShare or MediaFire or something) then just look for a link on that site's page that says download. When you click on the download link, it will probably do something similar to divShare and make you wait a handful of seconds before it starts the download (or offers a specific link to the download).
Hit us up in the comments if you need further instruction. We're here to help. Thanks.