9Apr2009
posted by:
sknybrg
| share this:



category:
Downloads
,
Music
no comments yet.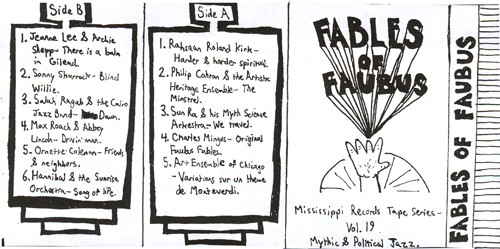 Thought I'd post up some bits that have been keeping me happy as of late, courtesy Jefre @ Root Strata Blog who gleaned it from Mississipppi Records of Portland, Ore. The dudes that run the store also put records out and have been releasing comp cassettes of all kinds. Apparently these tapes are only available at the shop itself but they encourage the ripping and sharing of the contents. They've put out a shit load in the last few months, more than I can keep up with, but all the ones I've heard I really like.
Vol. 19 covers jazz on the free/spiritual/cosmic tip and it's some good shit. My ocd-inspired listening habits turnover fairly quickly and I forget how much I dig on the 60's 70's jazz. I've been revisiting/discovering Roland Kirk and the first song on side 1 of the comp – holy shit damn!
Grab it over here and while you're at it, peruse some of the posts – lots of interesting stuffs.