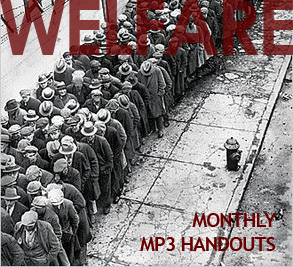 We're on JAMPT here (that's Jamaican, Arubian, Mexican People Time), which as you know means we're a few (several?) days late with this. But the getting is still good. We're glad to have Cashless back on the scene this time around. Enjoy. …
(Click the song names to take you to the off-site sharing pages where you can download the tunes. For detailed instructions on how to navigate the sharing sites where we host our files, we've got instructions at the end of this post)
cashless | …
Drake – November 18th
The buzz surrounding Degrassi actor turned Rapper/Singer (No Joaquin), Drake, is deafening but seemingly warranted. Over the weekend, Drake dropped his latest mixtape, So Far Gone, and the response on the blogger/Twitter spheres was overwhelming. The track November 18th is somewhat of a homage to the late great, Dj Screw and the seminal track June 27th. While I think November 18th lacks some of the rough edges that make the O.G. so real, the polish of November 18th will finally bring some of that same realness to the clurb and/or the local becky experience.

Dj Deckstream feat Mos Def – Life is Good
Wanna hear something crazy? I like a new Mos Def song. Japanese dj, Deckstream of M-Flo fame, comes through with some jazzy heatrock production steez.

Outkast – SpottieOttieDopalicious (I.M. Elliot & Quix22 Club remix)
One of my favorite songs of all time, this time with a wobbly bmore/club feel to it. I've never heard of either I.M. Elliot or Quix22, color me disconnected, but when you make Spottie Ottie hipster friendly without offending me, I'm all about it.

BLK JKS – Lakeside
Nothing new here, just reminded myself and you people that BLK JKS will be playing at SXSW on March 19th. More info here.

Michael Jackson – PYT (U-Tern edit)
Canada's king of the boogie edit, U-tern, hits hard again with a re-edited demo version of the MJ Classic. Speaking of the devil, make sure that you drop by Julien's Auctions at the Beverly Hills Hilton this April to cop some nice joints from MJ's personal collection of crazy shit. Personally, I'm feeling that animatronic head. :Pause:

———
empanadamn | Rapchure | Serato-ready
Red Cafe "Hottest In Da Hood"
Brookly's Red Cafe has been one lucky rapper who gets a hold of hoTT BeatZ. This one reminds me of Obie Trice's track "The Set Up". I'm a sucker for that percolating sound.

Papoose "Amnesia"
Remember when Papoose was supposed to be that guy who brought hip-hop back to New York? Yeah, me neither. What about that 1.5 million dollar record contract through DJ Kay Slay? At any rate, Sade is the best.

Big Boi "Ringtone"
My ol' buddy Antwan André Patton got a new album coming out called "Sir Luscious Left Foot: The Son Of Chico Dusty". This is one of the cuts on it on the uptempo, auto-tune tip. Also on the horizon for 2009 is an album from the other André, as well as a duet album in the form of a group called OutKast.

Busta Rhymes "Conglomerate" (Feat. Young Jeezy & Jadakiss)
This song really annoyed me in the beginning, but I'm a sucker for girls with accents (and I don't mean Hyundai).

Public Enemy "Lost At Birth"
I'm watching Pineapple Express and there's some great music throughout the movie. The last scene is hilarious, and I don't even smoke weed! This track is used when Dale & Red are mounting up like regulators and mobbing down the street in a yellow Daewoo.

———
dj lil tiger | Everything is gonna be alright …
Marvin Gaye vs Marc Mac – Sexual Healing
4hero's Marc Mac gives "Sexual Healing" the treatment.

Les McCann – Beaux J. Poo Boo
From one of my favorite Les McCann albums, 1971's Invitation to Openness. Real Hedz Know the DealTM.

Big Daddy Kane – On The Bugged Tip
CLASSIC. BDK kills. Nuff said.

Ms. Dynamite – Watch Over Them
Consciousness from the one Ms. Dynamite. A little a capella gem off her highly-acclaimed A Little Deeper debut album from way back in 2002.

Zuco 103 – Love Is Queen Omega (featuring Lee "Scratch" Perry)
An uplifting little uptempo number from Holland's Zuco 103, featuring the vocal blessings of dub legen Lee "Scratch" Perry.

———
Don't forget to check out our Welfare archives.
———
** DETAILED DOWNLOAD INSTRUCTIONS **
We host all our Welfare downloads off-site, so what you need to do to download them is to click on the song name in the post, and then look for a download link on the page that that takes you to.
We mostly use divShare, so for divShare follow these steps to download the songs:
– Click on the name of the song. That will take you to a divShare page.
– On the divShare page, on the right-hand side, there should be a link that says "Download Original". Click that link.
– That will take you to another page that says something like "You will be redirected to the download page in 15 seconds". If you just wait a little while, the file will automatically download for you. Or, you can click on "Skip This Ad" at the top right of that page, and the file will start to download right away.
That should do it.
If the file is hosted on some other site besides divShare (like ZShare or MediaFire or something) then just look for a link on that site's page that says download. When you click on the download link, it will probably do something similar to divShare and make you wait a handful of seconds before it starts the download (or offers a specific link to the download).
Hit us up in the comments if you need further instruction. We're here to help. Thanks.