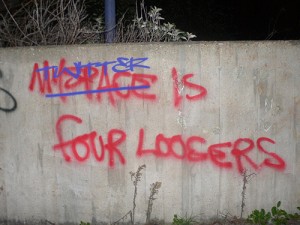 From The Rap Up Blog
Twitter, the microblogging platform that allows people to share their thoughts with the world in 140 characters or less, is everyone's latest web obsession. Contrary to what your grandma said, though, Twitter is more than just a chatterbox of lunch updates. It's a chatterbox of breakfast, lunch, and dinner updates. Jokes aside, Twitter is a fun way to connect with friends, family, ex-lovers, and online stalkers. And did I mention that it's the only site where you'll find Erykah Badu and Amanda Diva debating sexy pics or Count Bass D wondering why no one ever toasts bagel on the outside?

In NO particular order, here are 100 hip-hop people to follow on Twitter:
39. Don Cannon – Only slightly less influential than Jimmy Iovine
40. Cashless – Deadly on the 1's & 2's
41. Jean Grae – Better than your favorite female rapper
That's right, just below Don Cannon… cannon.. cannon… and right above Jean "No Whut Whut" Grae, there's lil ole' me. Although the list is strongly emphasized as being in NO PARTICULAR ORDER, I'd like that somehow I below amongst the names named for a reason. Needless to say, I'm honored and I appreciate the big ups in the description. Either way, follow me like Tupac on the adlibs of Hail Mary.
You can see more of the one Rizoh's musing at his blog, The Rap Up.