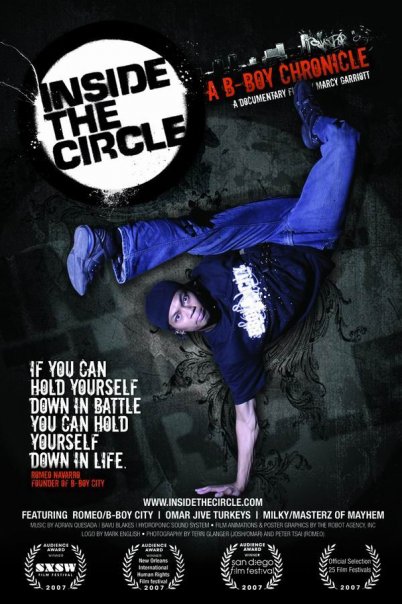 Mark your calendars and set your DVRs. MTV is airing the 2007 acclaimed B-Boy documentary Inside the Circle on Sunday at 11am ET/10am CT and 6pm ET/5pm CT.
INSIDE THE CIRCLE tells the story of two strikingly talented
b-boys, Josh and Omar, former best friends who become rivals when they join competing dance crews. Immersed in the b-boy culture of defiant creativity, Omar rises to international renown while Josh tangles with the Texas criminal justice system. Both of them struggle to keep dance at the center of their lives, and the "B-Boy City" competitive events thrown by visionary street dancer Romeo Navarro serve as emotional milestones in their journey to adulthood.
Romeo, who is pictured above and is featured in the documentary, is an Austin legend and institution. He's the dude behind the famous B-Boy City event in Austin every year that showcases b-boy talent from across the globe. B-Boy City is approaching it's 16th anniversary. Remarkable.
Back when I was doing radio in Austin, I was always honored when Romeo and his crew would stop by the station. I threw a benefit at a community center in South Austin around that time, and I asked Romeo to help spread the word and to put together a b-boy competition to coincide with the concert I was organizing. Dude brought in so many kids from all over the city, I was really overwhelmed. He's the main reason the event was a success, and he pretty much did that on his own. I've never forgotten that, so I'm geeked to see him and his peoples get MTV exposure. I wish nothing but the best for that dude, and for all those involved in this film and that scene.
Here's the trailer for Inside the Circle:
More info on the film here.
Here's a clip of an interview with Romeo from a few years ago:
And here are some highlights from B-Boy City 15 that are part of the bonus material from the Inside the Circle DVD: