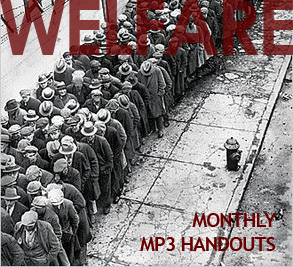 The days are passing by way too quickly. Christmas and Hanukkah are around the corner, and if I hear any version of Jingle Bells one more damn time, I might catch a case …
Here's the final Welfare offering of the year from the buhbOmp crew. Enjoy:
(click the song names to download the tunes)
Jef Cashless | making L.A. look like Japan daily…
Emynd – Reach Out
The first time I heard this track, I was sold. You dudes talking that, "Bmore is played" talk, need check your crotchety, mad young, old man at the door. Cooley High flashbacks like a mug.

Scarface feat Jay-Z & Beenie Sigel – Guess who's back
I posted this cut for a couple of reasons, primarily because it's still embodies everything that can be good about hip hop. Secondly, as a reminder never to take even the most seemingly insignificant thing for granted. Brad Jordan is retiring the moniker Scarface after his lastest lp, Emeritus. 'Face will be missed.

Hot 8 Brass Band – Get up (Diesler remix)
Not for nothing, your boy, Diesler has quietly become one of my favorite remixers. NOLA + handclaps from hell + sampler = heat. Simple equation.

Amp Fiddler, Sly & Robbie – Blackhouse (Paint the Whitehouse Black)
I really wished the mainstream media would have shown some false sense of outrage at such a provocative, beautiful piece of music as this. Instead, we have a lackadaisical offering from Jeezy and Nas and forgettable mixtape fodder from Luda. Hopefully this seeming to tribute to both Obama and George Clinton is welcome at buhbOmp. It's produced/performed by soulman extraordinaire, Amp Fiddler, as well as Reggae legends and elder statespeople, Sly Dunbar & Robbie Shakespeare.
*Sorry DJ's only @ 183kbps

J-Dawg feat Slim Thug – Ridin' on 4's
One of the hardest Houston tracks from 2007. Nuff Said.

——————
dj lil tiger | future perfect
D'angelo – Shit, Damn, Motherfucker (live)
I miss this dude, and I'm still pissed that I missed this tour and have never gotten to see dude perform live. D'Angelo is a beast, and this recording (live in Sweden, I think) just drives that home.

Herbert – The Audience
The closing cut from Herbert's classic 2001 LP Bodily Functions. Dani Siciliano showing her brilliance on the vocals. You gotta listen to this all the way through. It's all about the change up when the keys come in. This song haunts me.

La Rouge – Alla Deng Lobi
An old favorite of mine from Surinamese/Dutch band La Rouge off their #8 Hosse Hosse album. Get inside the rhythm and percussion on this. Big up to cousin Daryl for passing me this CD in Arnhem a while back.

Mr V – Put Your Drink Down (Copyright Remix)
Funky house re-work of this big tune from the Lower East Side's Mr. V feat. the Candela All Stars. PR-NY-UK connect.

Neon Phusion – The Future Ain't The Same As It Used 2 b
Another tune from around the turn of the century, but still as forward-thinking and ahead of its time as ever. There are so many amazing layers to this tune and so many progressions from beginning to end — the vocals, the percussion, instrumentation — that I don't even know where to begin. Neon Phusion was a collaboration between Bugz in the Attic's Afronaut, Alex Phountzi and Kaidi Tatham. This track features the percussion programming by IG Culture. That's a combo that just can't go wrong. Just put this on and let it ride. Tune everything else out. This song is just beautiful. It boggles my mind that this tune is almost 10 years old now.

——————
empanadamn | HO, HO, HOEZ!
Run DMC "Christmas Time In Hollis"
The quintessential hip-hop x Christmas track. The video is great as well. I remember MTV's holiday commercial spot using this song back in the day with animations by Keith Haring, who also did the cover art to the album.

Carlos Feliciano "Feliz Navidad"
Funky Bilinguin'. As a child, I remember seeing Señor Feliciano rip it on some holiday Christmas special feeling a great sense of pride. Dude has a lot of passion when he sings and plays.

Carlitos "Mi Burrito Sabanero"
Another clasico en español. This is a well known childrens version, sung by a young Venezuelan boy in the 70s. See the video here.

Vince Guaraldi "Christmas Time Is Here" (Instrumental)
Made famous from the holiday TV special "A Charlie Brown Christmas" this song is synonymous to Xmas at home for me. Strangely enough, this track strikes a mixture of emotions – warmth and happiness contrasted by somberness, longing, and loneliness. Such is the complexity of Charlie Brown's character.

Vince Guaraldi Trio "Linus & Lucy (Pocketknife's Hark, The Holler Remix)"
A revamped version for the Peanuts crew, this one always puts a smile on people's face when they hear it in the mix. P.S. My mom does a great version of the teacher from Peanuts.