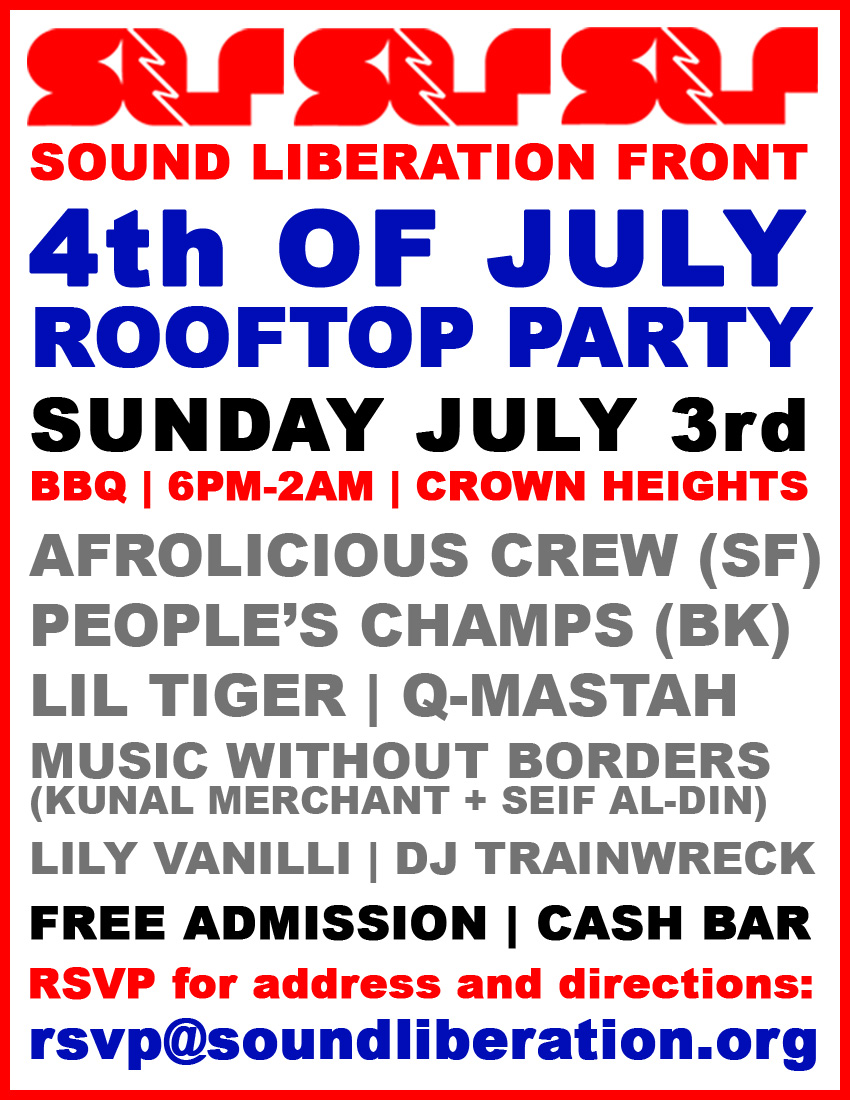 As you already know, Fourth of July weekend is about to jump off, and that means it's time for SLF's THIRD ANNUAL 4TH OF JULY WEEKEND ROOFTOP BBQ PARTY. We're at a new location this year, still in Brooklyn, but this time we'll be partying it up in Prospect Heights. And, we've put together a really diverse lineup that we know you'll love.
PLEASUREMAKER and SEÑOR OZ from the wildly popular AFROLICIOUS party in San Fransisco will join us and they're bringing their band to keep the dancefloor bubbling. Last year's crowd favorites, PEOPLE'S CHAMPS return with their energetic live performance and are guaranteed to knock your socks off once again. The MUSIC WITHOUT BORDERS crew will be in the place, with KUNAL MERCHANT and SEIF AL-DIN bringing their diverse party vibes to the tables, and rising star DJ LILY VANILLI of NANA CHILL will be showing off her party rocking skills. And of course, it wouldn't be an SLF party without the SLF DJ crew — LIL TIGER, Q-MASTAH and DJ TRAINWRECK — keeping the party live with their trademark eclectic blend of Funk, Hip-Hop, Soul, Disco, Afrobeat, Reggae and more.
Best of all, the party is FREE (but bring some cash for booze and BBQ). For the address to the rooftop and directions to the location, make sure to send an RSVP email to rsvp@soundliberation.org. Keep in mind, space WILL be limited, and RSVP does NOT guarantee entry.
As some of y'all know from previous years, this party goes off, so get there early (and stay late)! If you're looking to avoid the tourist crowd, cheesy parties and overpriced bars, and you want to have fun with great DJs and bands playing awesome music, the SLF ROOFTOP BBQ PARTY is def the place to be.
NOTE: The party will be on SUNDAY, JULY 3 (and NOT on the 4th itself, that way you're not hurting on Tuesday when you go back to work, and you and your dancing feet can spend the actaul holiday recovering from all the fun).
Here are the details:
SUNDAY | 03 JULY 2011
[[ 4TH OF JULY WEEKEND ROOFTOP BBQ PARTY ]]
6p-2a | FREE | No dress code | cash bar
/// featuring ///
[[ PLEASUREMAKER and SEÑOR OZ of AFROLICIOUS ]] :: SF
[[ PEOPLE'S CHAMPS ]] :: BROOKLYN
[[ DJ LIL TIGER ]] :: HOUSTON/QUEENS
( WHCR's Impulse Travels, Sound Liberation Front, Soular Grooves, –=(] buhbOmp [)=– )

[[ Q MASTAH ]] :: BROOKLYN
( Sound Liberation Front, Music Nerd Club )
[[ MUSIC WITHOUT BORDERS: KUNAL MERCHANT + SEIF AL-DIN ]] :: NYC
[[ LILY VANILLI ]] :: HOUSTON/BROOKLYN
( Nana Chill, The BRMG )
[[ DJ TRAINWRECK ]] :: BROOKLYN
( Sound Liberation Front, Music Nerd Club )
Please send e-mail RSVP for location: rsvp@soundliberation.org
More info:
¬ facebook event page
Here's some video footage of AFROLICIOUS in action so you can see how they get down:
SF Music Wrap – Afrolicious from VidSF on Vimeo.
Click here for pics from last year's rooftop party.
Hope to see y'all out there on SUNDAY.