By: cashless on: Aug 10,2009 In:
Music
,
Video
Mayer Hawthorne – Maybe So, Maybe No from Stones Throw on Vimeo.
Finally a music video that restores my faith in the medium. And I'm still mad that I didn't get to peep The Do Over La last time I was there (peep the site for what's really good in LALALAND and mixes from Friends of BuhbOmp such as Cosmo Baker, Morsy, Neil Armstrong and RareForm). LA, see you in September!
By: cashless on: Aug 7,2009 In:
Tricknology
,
Video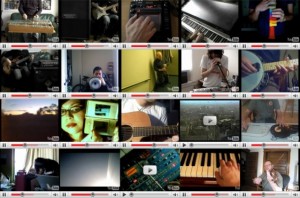 This is better experienced than written about. So stop wasting time and click the above link.
In Bb 2.0 is a collaborative music and spoken word project conceived by Darren Solomon from Science for Girls, and developed with contributions from users.

The videos can be played simultaneously — the soundtracks will work together, and the mix can be adjusted with the individual volume sliders.
By: cashless on: Aug 7,2009 In:
Events: Friends
,
Video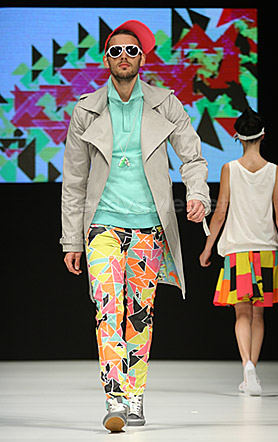 Note: the pic above is not from his SS'10 collection, but rather from a collection showcased in 2008.
The Buhbomp crew are a motley (no Crüe) looking bunch, we wear mostly XXXXL free Bush Babees promo tees from the mid-nineties to compliment our hand-me-down khakis and Nike Cortez. Basically, we're raggedy. Luckily, Buhbomp Amsterdam office president, Daryl Van Wouw is about to launch his SS'10 collection on our tasteless asses.
So peep serious style game over at the SS'10 Hypercube for what you'll be rocking in the year 2012.
Bonus: Video of Daryl bussin' his ASSSSSS on the runway after a mini rave session. Soooo good! ha!~
By: cashless on: Aug 5,2009 In:
Houston
,
Music
,
Video
Niceguys Promo Commercial from Evesborough Films on Vimeo.
Just a short epk introducing The Nice Guys to the rest of the world, via Houston. Gotta love it. These dudes seriously have next.
By: cashless on: Aug 3,2009 In:
Music
,
Video
Editor's note: More than likely NSFW.
Editor's note 2: This shit rules.


Second Life meets daggerin with sexy results.
By: cashless on: Jul 23,2009 In:
Misc.
,
Video
By: empanadamn on: Jul 20,2009 In:
Elz
,
Empanadamn
,
Events: Past
,
Music
,
NYC
,
Updates
,
Video
It's about that time…
This Saturday afternoon we're hattin' down dem batches, no, no… batten down the hatches aboard this brothership with DJs empanadamn, Sailsmore and Soul Korea. It's another installment of your favorite afternoon outing of as much seat grooving as a pair of butt-cheeks pressed in white linen trousers can take – Smooth Move.
Smooth Move is the perfect post-brunch / pre-party springboard to celebrate summer, with DJs mixing a throwback soundtrack that encompasses yacht rock, soft rock, AM gold, quiet storm cuts and everything in between. Expect food on the grill, drinks at the bar, and basking in the outdoor courtyard.

FREE! No cover.
Saturday July 25th, 3-9PM at littlefield
622 Degraw St. b/w 3rd & 4th Ave.
in The Gowanus, Brooklyn
M/R to Union (closest route)
or F/G to Carroll (12 minute walk)
Big shouts to the homies at Yacht Rock (creators of the online documentary series covering  your favorite yacht rock artists) for their previous support on the Twitter hotline.
By: empanadamn on: Jul 17,2009 In:
Downloads
,
Music
,
Video
One of my recent fascinations is with English singer MPHO (pronounced "Mmm-poh"). Hailing from Brixton in South London, she's supplied vocals for various UK outfits; some of you may recognize her from the Bugz In The Attic's cut "Booty La La". MPHO (also known as Mpho Skeef) has been hard on the grind to release her debut album Pop Art dropping in the near future. Her first single "Box N Lox" will be available Monday, July 20, at 7 Digital.
Here MPHO covers the CLASSIC tune "Running Up That Hill" by fellow Brit Kate Bush:
Kate Bush "Running Up That Hill" (Ashley Beedle Mix)

Hit her on the Twitter: @mphosays
By: cashless on: Jul 10,2009 In:
Video
I don't really understand what's going on here, but if you love Michael Jackson, The Last Dragon, a Delorean, the mentally disturbed and a swift kick to the taint, this is for you!
The party really gets started at about 1:50. So BEAT IT, YOU TURKEY!!!
By: empanadamn on: Jul 10,2009 In:
Downloads
,
Empanadamn
,
Mixes
,
Music
,
NYC
,
Video
This monumental event reunited one of hip-hop's illest collaborative mixtape efforts of the 1990s – DJ Tony Touch presents The 5 Deadly Venoms Of Brooklyn (1997) featuring DJs PF Cuttin (as The Lizard), Mister Cee (The Toad), Premier (The Scorpion), Evil Dee (The Centipede) & Tony Touch (The Snake). The title is based on a Shaw Brothers classic The 5 Deadly Venoms which refers to 5 characters who exemplify kung fu fighting styles of said creatures. The theme has been utilized in various hip-hop contexts from Wu-Tang albums to Sprite commercials.
The night's celebration of Tony Toca's birthday also paid homage to the late Michael Jackson, classic hip-hop joints and good music, period. Special thanks to Squincy Jones, who was in attendance with me. Check Toca Tuesdays at Sutra on 1st & 1st in the East Village. One of NYC's only parties poppin' on a Tuesday night.
Photos of the night with awesome captions courtesy of me.
DJ Tony Touch presents The 5 Deadly Venoms Of Brooklyn

PS. Sorry for the lacking title; I didn't ask him his age. Plus a lady never tells. (Just kiddin', Tony!) Peace to the piece maker!