After taking a week off, SOUNDLIB is back this week and we've got a special treat: my good friend and one of my favorite DJ's CHIKCEN GEORGE will be in town from Austin to get down on the decks with me.
CHICKEN GEORGE has made his name internationally through his signature "Jazztronica" style, an amalgamation of jazz, soul, eclectic bass and everything in between. His sets are known for their rare combination of superb technical skill and exceptional song selection.
Aside from being one of the premier tastemakers in the Austin music scene, CHICKEN GEORGE has released two records on the world-renowned, Stockholm-based label SWEDISH BRANDY. The two EPs, The Swed.u.s.h Connection 1 and 2, bring together tracks from Ocote Soul Sounds, J-Boogie's Dubtronic Science, Lady Alma, and Hydroponic Sound System, alongside some of CHICKEN's own production.
He has shared the stage with a wide range of talent including The Wailers, Pete Rock, Jazzanova, John Legend, Grandmaster Flash, Biz Markie, The Roots, Talib Kweli, DJ Jazzy Jeff, Sharon Jones & The Dap Kings, Afrika Bambaataa, Antibalas Afrobeat Orchestra and Erykah Badu. So, we're deeply honored to have him join us at SOUNDLIB.
For more on CHICKEN GEORGE, check out this recent interview he did for AOL's Spinner music blog.
We've also featured three of his mixed here on buhbOmp:
¬ DJ Chicken George – The Legendary Latin Funk Sounds of Brownout
¬ Chicken George – Soundwave 10-Year Anniversary "Jazztronica" Mix
¬ Chicken George mix for Phunkwhatchaheard! Radio's one-year Anniversary Show
As always, the party is FREE, and starts at 9pm. Details below. Hope to see you there.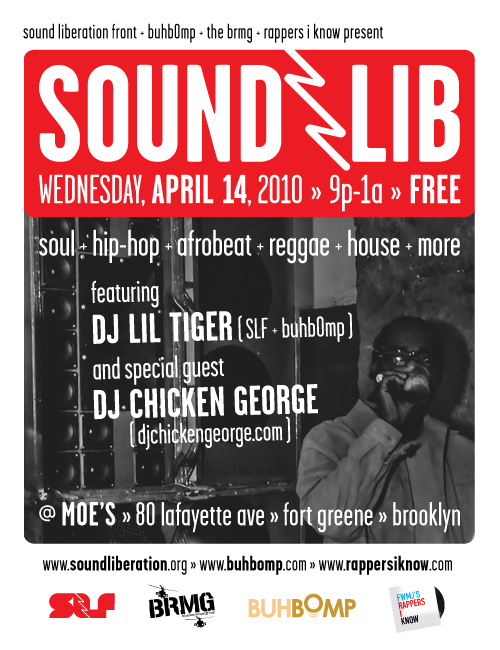 Sound Liberation Front + buhbOmp + The BRMG + Rappers I Know present:
[[ SOUNDLIB WEDNESDAYS ]]
WEDNESDAY | 14 APR 2010 | 9p-1a | FREE | No dress code
@ Moe's
80 Lafayette Ave
Fort Greene, Brooklyn, NY, 11217
718.797.9536
C to Lafayette Ave / G to Fulton St
Also within walking distance from the Atlantic Ave station (B-Q-2-3-4-5 trains)
featuring special guests:
[[ DJ CHICKEN GEORGE ]]
( djchickengeorge.com, Swedish Brandy )
and resident:
[[ DJ LIL TIGER ]]
( –=(] buhbOmp [)=–, Sound Liberation Front, touch&feel:radio, Soular Grooves )
+ facebook event page
+ going.com: www.going.com/soundlib_apr14
+ eventful: bit.ly/cAzUpO
+ culturemob: bit.ly/9rayuG
+ upcoming: bit.ly/cfNE83