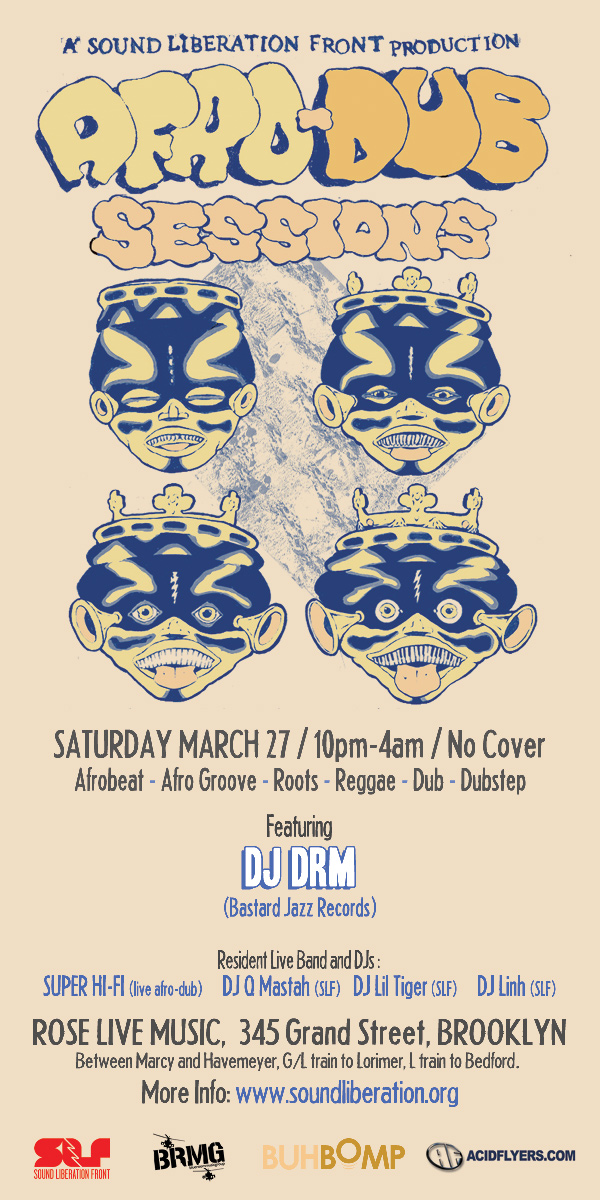 Sound Liberation Front + The BRMG + buhbOmp presents:
[[ AFRO-DUB SESSIONS ]]
Sounds of the Rhythm R(evolution)
SATURDAY | 27 MAR 2010
(and every last Saturday of the month)
10p-4a | NO COVER | No dress code
@ Rose Live Music
345 Grand Street
Brooklyn, NY 11211
– Between Marcy Ave. and Havemeyer St. in Williamsburg
– G/L train to Lorimer or the L to Bedford)
718.599.0069
maps: google | hopstop | yahoo
/// This month at AFRO-DUB SESSIONS we're proud to present featured guest DJ DRM, co-founder and label manager of one of New York's longest-running boutique record labels, Brooklyn's Bastard Jazz Recordings.
DRM, who hosted the long-running, legendary underground reggae party Dubwise Sessions in Brooklyn, is known for his eclectic sets culled from the tide pools of Dub, Reggae, Hip-Hop, B-Boy Breaks, Latin, Disco, House, Afrobeat and more.
Also, acclaimed Ska and Dub musician/producer VICTOR RICE (Moon Records/Strikkly Vikkly DubSystem) will be on hand adding dub effects to the live sets by SUPER HI-FI, the resident Afro-Dub band which has been packing the house with their creative melding of Afrobeat and Dub.
SLF resident DJ's LINH and LIL TIGER keep the party popping on the decks. And of course, the party is FREE all night long. ///
featuring:
[[ DJ DRM ]]
( Bastard Jazz Recordings )
www.bastardjazz.com
w/ resident live Afro-Dub band:
[[ SUPER HI-FI ]]
( w/ members from Aphrodesia, Slavic Soul Party, The Superpowers and Blue Man Group )
and live remix specialist:
[[ VICTOR RICE ]]
( Strikkly Vikkly DubSystem )
and SLF residents:
[[ DJ LINH ]]
[[ DJ LIL TIGER ]]
+ facebook event page
+ going.com: www.going.com/afrodub_mar27
+ eventful: bit.ly/azcXLi
+ culturemob: bit.ly/b3fL1b
+ upcoming: bit.ly/bTmJ8z