This week at SOUNDLIB we're honored to have our friend KUNAL MERCHANT spin with us.
Kunal recently released the critically acclaimed Hindustani Gangster project with his production team Music Without Borders. The album, which has been featured on Jay-Z's blog and will be in GQ India this month, fuses Indian-style beats and sounds with Jay-Z's American Gangster album to refashion it as the passionate tale of a Mumbai hustler's sordid lifestyle.
You can check out the album here: hindustanigangster.com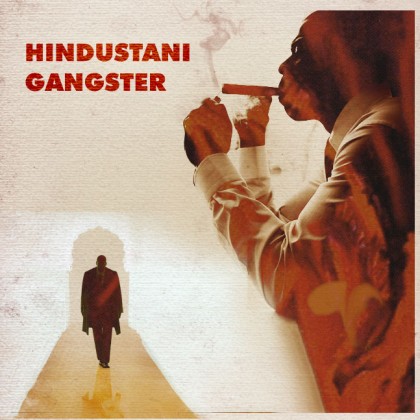 KUNAL's influences range from Depeche Mode to Outkast, Massive Attack to Classical Indian music, and he kills it on the decks. He'll be doing a special Biggie set to commemorate the anniversary of the Brooklyn legend's passing.
DJ LIL TIGER will also be on hand delivering his trademark selections of soul (new and old), Hip-Hop, afrobeat, house, reggae and much more.
As always, it's FREE all night. The party starts at 9pm. Hope to see you there. Flier and pertinent info below: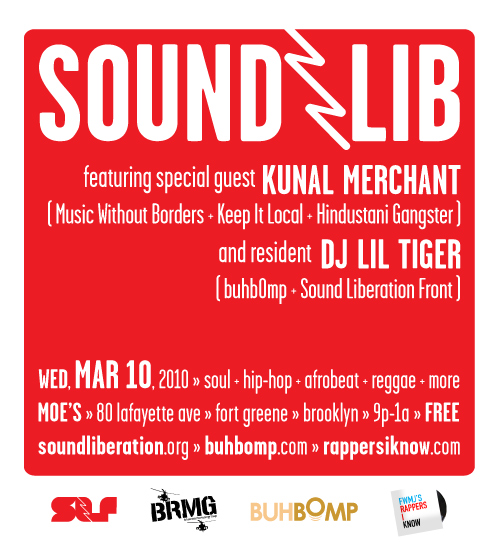 Sound Liberation Front + buhbOmp + The BRMG + Rappers I Know present:
[[ SOUNDLIB ]]
WEDNESDAY | 10 MAR 2010
9p-1a | FREE | No dress code
@ Moe's
80 Lafayette Ave
Fort Greene, Brooklyn, NY, 11217
718.797.9536
C to Lafayette Ave / G to Fulton St
Also within walking distance from the Atlantic Ave station (B-Q-2-3-4-5 trains)
featuring special guest:
[[ KUNAL MERCHANT ]]
( Music Without Borders, Keep It Local, Hindustani Gangster )
and resident:
[[ DJ LIL TIGER ]]
( –=(] buhbOmp [)=–, Sound Liberation Front, touch&feel:radio, Soular Grooves )
+ facebook event page
+ going.com: www.going.com/soundlib_mar10
+ eventful: bit.ly/aL2Pmz
+ culturemob: bit.ly/dliNrL
+ upcoming: bit.ly/a0cmiV