By: cashless on: Mar 6,2009 In:
Films
,
Misc.
Via Mad Decent
I wasn't the biggest fan of the Baile Funk/Funk Carioca scene that popped off a few years back. Had it been anything like the FOB trailer and not a gang of sweaty hipsters in headbands? I woulda been down like four flat tires.
If you're in Austin for SXSW, you can catch the U.S. Premiere of the full length with a Q&A with Diplo afterward.
4:00 PM, Saturday March 14th @ The Hideout Theatre
10:00 PM, Thursday March 19th @ The Paramount Theatre
For 20 years, a subculture has emerged under society's radar. Favela On Blast tells the stories of sex, love, poverty and pride for Rio's marginalized people. They have their own language, style and heros. It's a music that's fast, heavy and violent like the city itself. This film is a flash of a few lives of charismatic people that relate to the funk music and a retelling of the subculture itself.

Funk superstars like Deize, Tigrona, Mr Catra, Duda Do Borell all make an appearance. And traficantes, funkieros, mothers and fathers, workers and students in Rio all have a part to play in funk culture. Its kinda of like the bass that ate rio mixes with Edward Scissorhands.
By: cashless on: Mar 4,2009 In:
Misc.
,
Video
That boy Pikahsso (@Pikahsso on Twitter), creator of the Fat Ass Albert in the Hood series is a FOOL, with a capital F.O.O.L!!! If you haven't been keeping up with the series, do yourself a favor and get fam, STAT! Dallas, Texas reppin!!!
This week's episode, BLOW "The Cocaine Game", features music from friends of BuhbOmp, Roger Riley and Teddy Troutman aka Death of Autotune.
Peep all of the episodes here.
In this new episode 8 of Fat Albert In The Hood Albert realizes that if he wants to get the fly honeys, jewelry, cars and clothes he has to get his money right so he enters the cocaine game. So he can live the lavish life but little does he know living life in the fast lane comes with major consequences and problems. All his troubles begin when he is sent on a trip to move some weight to the Southside of Dallas for a ruthless Drug Kingpen named Sherman who is notorious for putting hits out on anyone who crosses him or his money …
By: cashless on: Mar 2,2009 In:
Films
,
Misc.
,
Video

Excerpt from Hard Ticket to Hawaii (1987).
I gotta cop the DVD, stat! This review alone (snippet) should make this a must-have.
The plot, where it exists, concerns a drug-running ring on the Hawaiian island of Molokai. Donna and Taryn are assigned to stop the evildoers, who are led by a Goldfinger-like leader who delivers contraband in a radio-controlled helicopter (a scale model, not a real one…guess the drug business isn't what it used to be on Molokai).
Somehow, the storyline changes from smuggled drugs to smuggled diamonds along the way, but who cares? …
In the interim, we are treated to such unforgettable lines as "Let's hit the jacuzzi…I do my best thinking there," "I don't want to control your life, I only want to suck the polish off your toes," and "If brains were bird poop you'd have a clean cage."
We also run afoul of a homicidal skateboarder armed with a pistol and a blow-up doll (why?) and a transvestite who is spying on the spies. Plus any number of nubile women, none of them at all foul.
By: liltiger on: Mar 2,2009 In:
Misc.
,
Video
A sushi-eye view of patrons at a sushi restaurant in Tomakomai, Hokkaido, Japan:
Courtesy of Q-Burns and Laughing Squid.
By: empanadamn on: Feb 27,2009 In:
Misc.
My homie Stephen had a couple sneakers of his entered in a custom shoe battle thingy from the Nike-ID Studio in NYC.
http://theshoegame.com/articles/battle-of-the-bespokes.html
Please take the time to vote for #2 Hot Lime Andre Agassi joints.
He did #1 & #2. Thanks! PS. He don't win anything but internet braggin' rights.
By: liltiger on: Feb 24,2009 In:
Downloads
,
Misc.
,
Music
,
Tricknology
By: cashless on: Feb 17,2009 In:
Misc.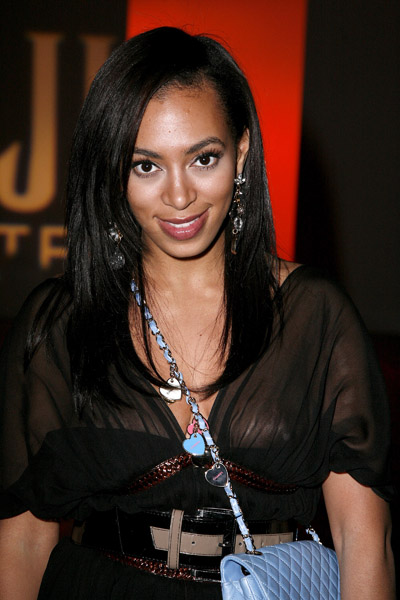 I'm in love with Solange Knowles. Say what you will about her music (which I actually like) and the awkward and historically inaccurate time-travelling in the "I Decided" video, but this woman is GORGEOUS. I'm feeling this pic in general, but if you pay close attention to the left side of her body, you will get a nice lil bonus.
By: DBDR on: Feb 16,2009 In:
Houston
,
Misc.
,
Music
,
Sports
I often find myself scouring the ebays for information to make my workday go a little faster and decided to spread the love with a quick roundup. I'm sure Lil Tiger would prefer me to do this more often, but baby steps…or in other words, Lil Tiger steps.
As somebody who attempts to follow the media landscape with some regularity, this transcript from a recent Charlie Rose show caught my eye. I agree with the dude from the NYDN though, micropayments or charging for web content just isn't going to work.
If you're a Rockets fan, you should find this article interesting. Michael Lewis gives the "Moneyball" treatment to Rockets GM Daryl Morey, and Shane Battier gets some major ink as well. Battier is one of those classic examples of a guy that you hate until he plays for your favorite team.
I'll miss the Diesel when he's gone. The Shaq Dance video is reason 999,999 why Shaq is a pretty funny dude.
And ending with another Diesel clip — I'm just going to go out on a limb and say this play was more staged than anything you'll ever see at a Globetrotters game. No way Howard lets Shaq throw the ball through his legs and then not get back as Shaq goes backdoor. Boo!
By: cashless on: Jan 24,2009 In:
Misc.
,
Music
,
Sports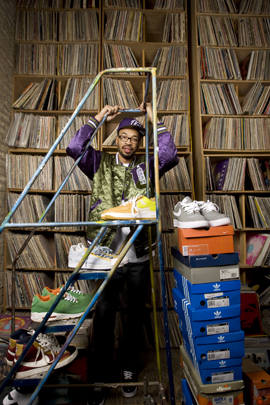 File under: People we admire
Rich Medina is as respected on the turntables as he is on the basketball court. While many people might be familiar with his name from music he crafted for The Roots, Jill Scott and Eve, heads might not know that Medina was once a step away from the NBA.
Knowledge being dropped here…
By: cashless on: Jan 22,2009 In:
Misc.
,
Music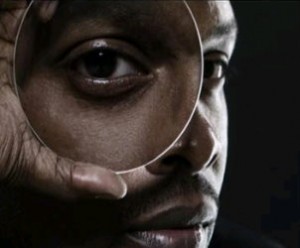 Happy Birthday to own of our heroes, Mr. Jeff Townes.