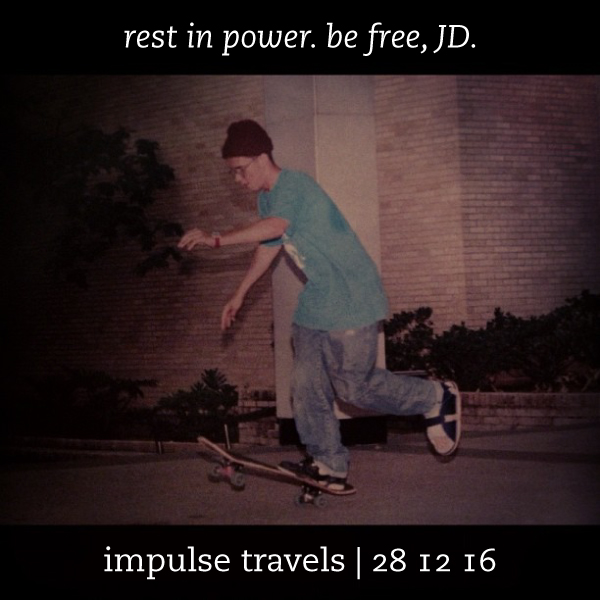 impulse travels radio. episode 238. 28 december 2016.
jd tribute show
Check out the latest episode of DJ Lil Tiger and Empanadamn's Impulse Travels Radio Show on WHCR 90.3fm in Harlem and Traklife Radio in downtown L.A.

» OR DOWNLOAD HERE «
( pc: right-click and save as / mac: option-click )
This is a special tribute episode to our good friend Jason Dozier, aka JD, who passed away at the far-too-young age of 42 recently in New Orleans.
Jason was a well-known DJ in Brooklyn and in his home state of Texas. He was known for his outsized personality, enormous heart, and a smile and laugh that won the affections of friends, family, and strangers alike across the country and beyond. He was deeply passionate about music and skating, with a voracious appetite for learning and an unstoppable drive to experience life on his own terms.
During his time in Austin, Jason made his mark as a producer and DJ, releasing Da Dirty Work EP with longtime-friend and exceptional MC M'Phatigo aka Livewire, Poet Laureate aka The Big Wheel. He was also one of the founding DJs behind the long-running and seminal Austin Monday night party at Nasty's, originally dubbed Blow Pop, alongside Foundation DJs Snoopi, Snotty and Austin legend DJ Mel (aka President Obama's DJ). Later, back in Houston, Jason would make a name for himself holding down the decks at Cabo on Richmond, one of the city's go-to weekend night spots featuring the Southern rap hits that dominated the region and the country and brought Houston into a new level of prominence in that era. He also made a name for himself as one of the city's best bounce DJs, sharing with his audiences his love and enthusiasm for New Orleans, the enchanted city which Jason always held so close to his heart.
Fresh off of his successes in Houston, Jason later moved to Brooklyn and in 2006 and teamed up with Rub co-founder and top-notch party rocker DJ Ayres to release Houston for Dummies, their acclaimed mixtape celebrating classics from the heavyweights of Houston's storied rap scene.
This episode of Impulse Travels only scratches the surface of his influence on our lives. We wish we had so much more time to play and say so much more.
His brother, Joe Harris, and his friend and former roommate Jonathan Lee joined us by phone, and friends Elz and Tyler sat in at the station with hosts DJ Lil Tiger and Empanadamn to share a few stories about Jason and play music that reminded us of our time with him.
We love you, Jason. We'll do our best to carry your light forward. Rest in power, my dude.
Be free, JD.