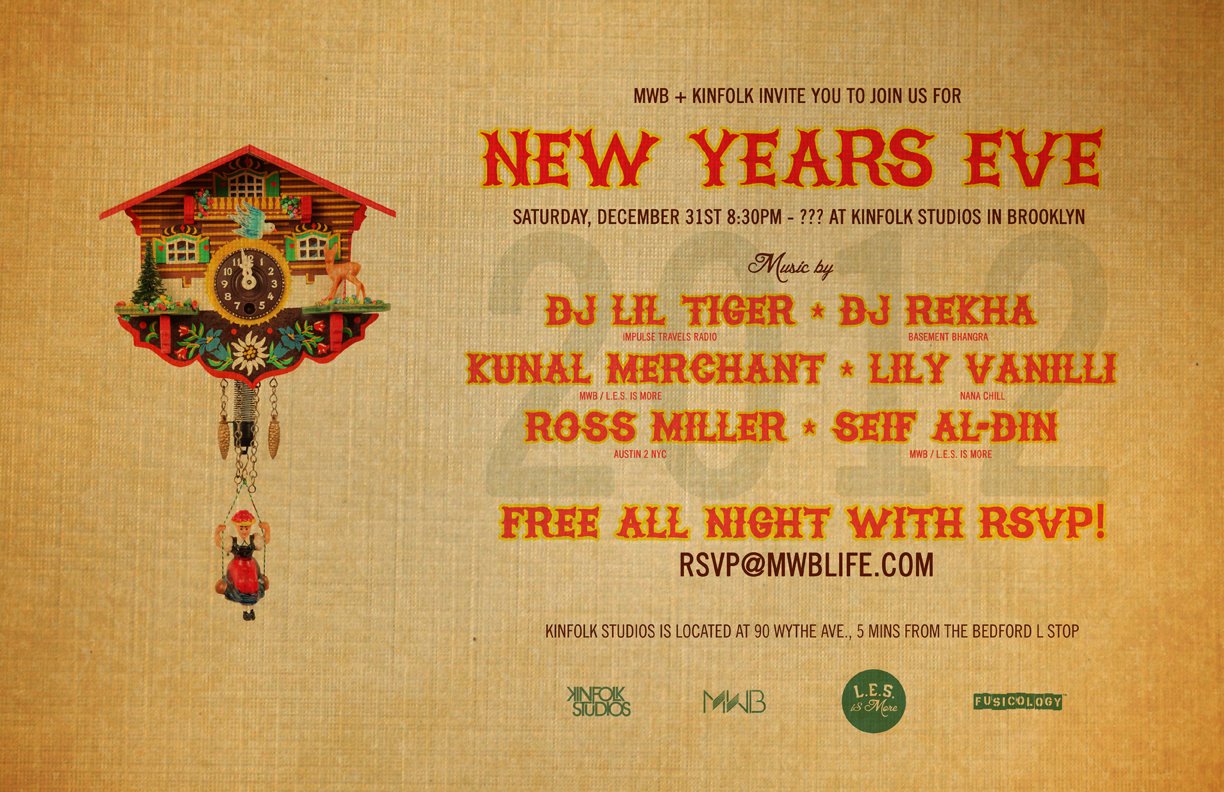 ==========
Music Without Borders presents …
[[ MWB's NEW YEAR'S EVE PARTY ]]
SATURDAY | 31 DECEMBER 2011 | 8:30p-??? | FREE
Let's take a moment and celebrate the grand year that was 2011 …
without the nonsense …
NO TICKETS
NO OPEN BAR
NO BOTTLE SERVICE
JUST FUN!
The MWB and L.E.S. is More family invite you to our version of a NEW YEAR'S EVE PARTY! with global party cuts from an all-star cast:
DJ LIL TIGER ( Impulse Travels radio / buhbOmp )
DJ REKHA ( Basement Bhangra )
KUNAL MERCHANT ( MWB / L.E.S. is more )
LILY VANILLI ( Nana Chill )
ROSS MILLER ( Estée Lauder )
SEIF AL-DIN ( MWB / L.E.S. is more )
We invite you to join us in Williamsburg to bring in the New Year—our first event at the amazing Kinfolk Studios loft space/art gallery. The place is amazing—high ceilings, three main sections, and an awesome bar complete with an incredible cocktail menu.
It's literally one stop into Brooklyn from Manhattan on the L Train, and a 5 minute walk from there. Plus when you step outside of the venue, you have a view of the city!
Drinks: We have a special hook-up for our friends: $30 Bottles of Champagne! And you won't have to wait for your drinks—we will have 2-3 bartenders available to take your order.
» RSVP IS A MUST: rsvp@mwblife.com
Kinfolk Studios
90 Wythe Ave
Brooklyn | Williamsburg
212.432.4320
+ google map
+ facebook event page
==========