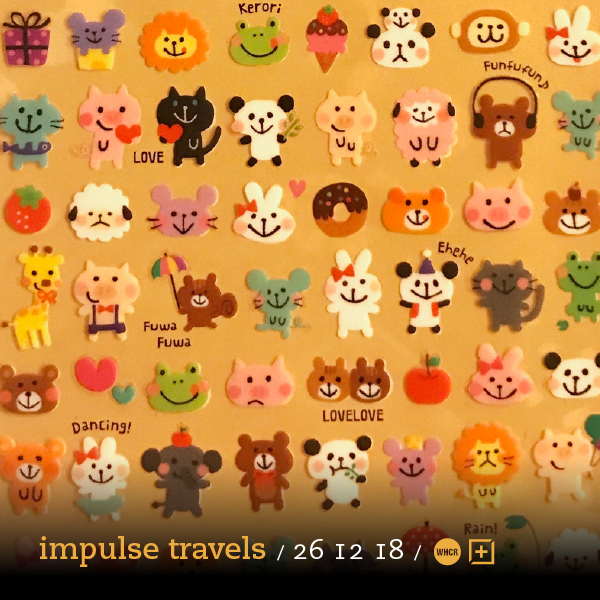 impulse travels radio. episode 326. 26 december 2018.
Check out the latest episode of DJ Lil Tiger and Empanadamn's Impulse Travels Radio Show on WHCR 90.3fm in Harlem and Traklife Radio in downtown L.A.

» OR DOWNLOAD HERE «
( pc: right-click and save as / mac: option-click )
photo: Tokyo sticker love. | by Fabian Mohr. licensed under a Creative Commons Attribution-NonCommercial 4.0 International License.
Our 12/26 episode features music from Little Dragon + Jayda G (Sweden + Vancouver + Berlin), Kid Sublime + Dangerfeel Newbies (Amsterdam + ATL), Bombón + Buckamore (Houston), Ebo Taylor + Ron Trent (Ghana + Chicago), Black Coffee + Mbuso Khoza (South Africa), Tizo (Ghana), Anchorsong (Tokyo + London), Louis Cole (Los Angeles), Daz-I-Kue + Colonel Red (UK), Kudo Kamome + Hamacide (Tokyo + Kyoto), Nickodemus (BK), Captain Planet (Los Angeles + BK), Calypso Rose + Tony Quattro (Trindad + Tobago + Los Angeles + NYC), Tainá Costa (São Paulo), Chancha Via Circuito (Argentina), Shiftee (NYC), King Hemjay + Seriki (Nigeria), Tropkillaz (São Paulo) and more.