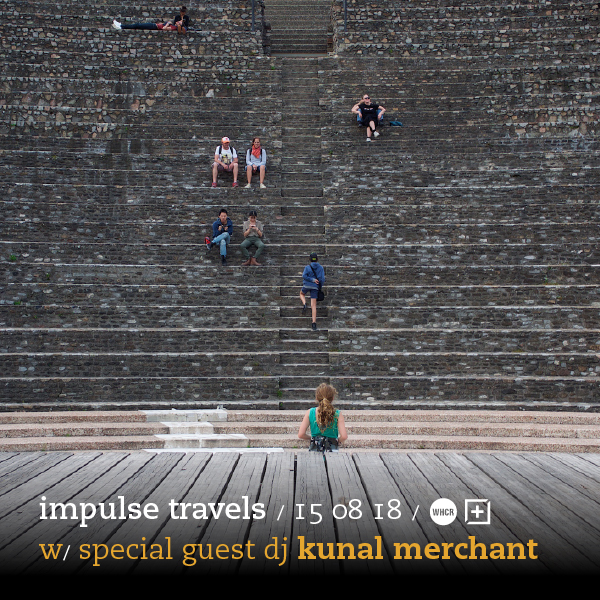 special guest dj: kunal merchant
impulse travels radio. episode 309. 15 august 2018.
Check out the latest episode of DJ Lil Tiger and Empanadamn's Impulse Travels Radio Show on WHCR 90.3fm in Harlem and Traklife Radio in downtown L.A.

» OR DOWNLOAD HERE «
( pc: right-click and save as / mac: option-click )
photo: En el anfiteatro (Lyon, 2017). | by Guillermo Moratalla. licensed under a Creative Commons Attribution-NonCommercial 4.0 International License.
Our 8/15 episode was an all-live-mix episode, featuring special guest KUNAL MERCHANT and host DJ LIL TIGER rocking back-to-back House sets.
You can check out KUNAL's live Impulse mix below, featuring tunes from Goldcap (Los Angeles), Gilad Kahana + Red Axes (Buenos Aires + Valencia), Dee Montero (Belfast + Ibiza), Massimo Lippoli (Riccione), Nicola Cruz + Bawrut (Ecuador + Madrid + Italy), Mama + Ashley Beedle (UK), Fold + Mall Grab (London), DJ T. (Düsseldorf + Berlin), NTFO (Timișoara), Baile + Sasha (BK) and more.
And here's LIL TIGER's mix featuring songs from Rocco + Akram + Nativeroots (Lyon), Irfan Rainy + Bonafide Rojas (Manchester + NYC), Morsy (BK + BX), Sara Tavares + Djeff Afrozila (Lisbon + Cabo Verde), Loleatta Holloway + Louie Vega (Chi + NYC), Peven Everett + Koyla (Chi + St. Petersburg), Neighbour + Isis Graham (UK), Sacred Deep (Cape Town), Yasmin + Shy FX + Ms Dynamite + Freemasons (UK) and more.