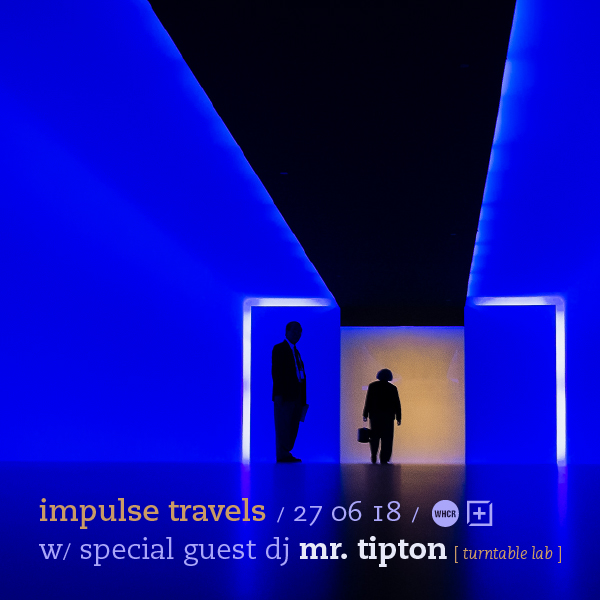 special guest dj: mr. tipton (turntable lab)
impulse travels radio. episode 302. 27 june 2018.
Check out the latest episode of DJ Lil Tiger and Empanadamn's Impulse Travels Radio Show on WHCR 90.3fm in Harlem and Traklife Radio in downtown L.A.

» OR DOWNLOAD HERE «
( pc: right-click and save as / mac: option-click )
photo: art installation at houston museum of fine arts. | by garagemonster. licensed under a Creative Commons Attribution-NonCommercial 4.0 International License.
Our 6/27 episode features special guest MR. TIPTON [ Turntable Lab ], who blessed us with an all-vinyl live IMPULSE MIX of African heat and other international gems.
The show also features tunes from Georgia Anne Muldrow (Los Angeles), Astrud Gilberto (Brasil + NYC), Nickodemus + Fémina (BK + San Martín De Los Andes), Nikki Jean + Lupe Fiasco (St. Paul + Chi), Empresarios (D.C.), King Most (BK + BX + SF) and more, plus a special tribute to our Houston roots.
You can check out Mr. TIPTON's live mix below featuring tunes from Gboyega Adelaja (Nigeria), Innov Gnawa + Mr. Assister (BK + Morocco + London), King Sunny Ade + Adesse Versions (Nigeria + Manchester), Ebo Taylor (Ghana), Bell'a Njoh (Cameroon), Stephen Encinas (Trinidad and Tobago), Voilaaa (France), Ikebe Shakedown (BK), Jimmy Hyacinthe + DJ Vas (Côte D'ivoire + Paris), Alma Negra (Basel), Cos-Ber-Zam + Daphni (Togo + Dundas + London), The Twins (Nigeria) and much more.