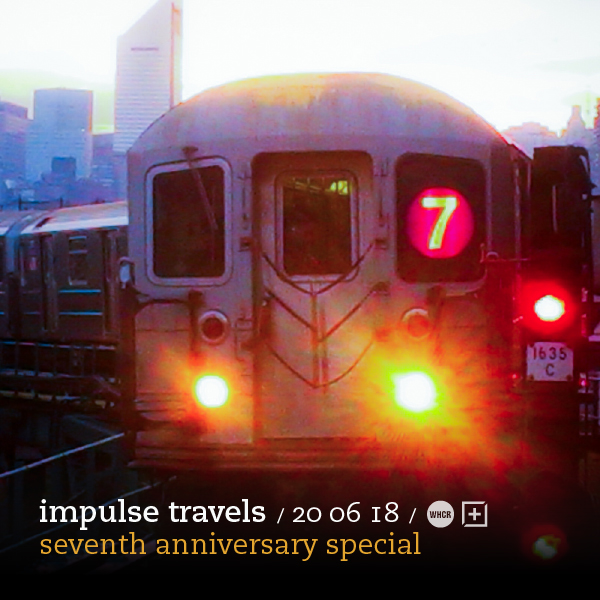 seventh anniversary all-mix special
impulse travels radio. episode 301. 20 june 2018.
Check out the latest episode of DJ Lil Tiger and Empanadamn's Impulse Travels Radio Show on WHCR 90.3fm in Harlem and Traklife Radio in downtown L.A.

» OR DOWNLOAD HERE «
( pc: right-click and save as / mac: option-click )
For our 6/20 episode, we celebrated our seven-year anniversary at WHCR with a four-hour-+ all-mix show. DJ LIL TIGER started with a classic Broken Beat mix with some UKG flourishes, followed by an EMPANADAMN multi-genre live mix. LIL TIGER closed out the show with a House set with some Latin and African touches.
You can listen to LIL TIGER's broken beat mix below featuring tunes from Omar (UK), Seiji + Lyric L (London), Vikter Duplaix (Philly), Donae'o (London), Mark De Clive-Lowe (London + New Zealand), Crazy Cousinz (UK), Small Arms Fiya + Ayah + Domu (UK), Daz-I-Kue + Bembe Segue + Colonel Red (London + ATL), Jovonn (NYC), Bunny Mack + Bugz In The Attic (UK) and more.
Check out EMPANADAMN's live mix as well, featuring tunes from Konshens + Major Lazer (Kingston + Los Angeles + ATL), DJ Jazzy Jeff + The Fresh Prince + Terry Urban (Philly), The Avalanches (Melbourne), Shakka + Alunageorge (London), Celia Cruz + Bounz (Havana + Los Angeles), Golden Kong (São Paulo + BK), Héctor Lavoe + Willie Colón + DJ Baysik (Ponce + BX), Robert Owens (Ohio + Chi), Sinden (London) and more.
LIL TIGER's house mix features songs from Black Coffee + Zakes (South Africa ), Klaves (Poland), DJ Fudge + Hallex M + Tasita D'mour + Renato Xtrova (Hong Kong + London + Angola), Kllo + Mall Grab (Australia + London), Mastiksoul + Yuri Da Cunha (Portugal + Angola), Mr V + Copyright (NYC + UK), Mastiksoul + Yuri Da Cunha (Portugal + Angola), Gregor Salto + Mokoomba (Haarlem + Zimbabwe), Fulanito + Sabo (NYC), Doc Link + Marissa Guzman (Chicago + Detroit) and more.