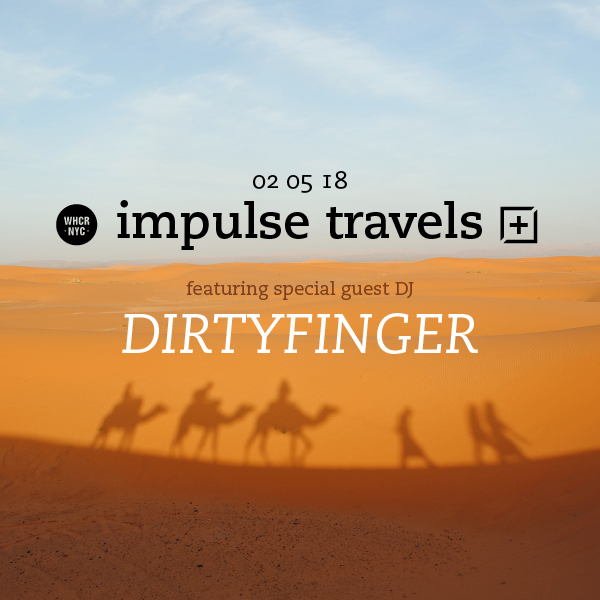 special guest dj: dirtyfinger
impulse travels radio. episode 296. 02 may 2018.
Check out the latest episode of DJ Lil Tiger and Empanadamn's Impulse Travels Radio Show on WHCR 90.3fm in Harlem and Traklife Radio in downtown L.A.

» OR DOWNLOAD HERE «
( pc: right-click and save as / mac: option-click )
photo: Desert Silhouette. Merzouga. Morocco. | by Cait. licensed under a Creative Commons Attribution-NonCommercial 4.0 International License.
Our 5/2 episode features a return appearance by DIRTYFINGER, who blessed us with an Impulse mix of "outernational" disco gems from across the globe.
The show also features music from Tony Allen (Nigeria), Nickodemus + Jahdan Blakkamore (BK), Black Milk (Detroit), Tom Misch + Poppy Ajudha (UK), Thornato + Kongo Elektro + Zongo Abongo (QNS + Cape Town + Ghana), Jhené Aiko + Twenty88 (Los Angeles + Detroit), TOKiMONSTA + Saints + Penthouse Penthouse (Los Angeles), Birthday Boy + Trish (Toronto), Bonobo + Innov Gnawa (UK + Morocco + BK), Kasbo + Frida Sundemo (Norway) and more.
You can check out DIRTYFINGER's Impulse mix below featuring tunes from Şenay (Istanbul), Adriano Celentano (Milan), Gyedu-Blay Ambolley (Ghana), Asha Bhosle + Chorus (India), Christy Essien (Nigeria), Cristina Camargo (Rio), Juan Luis Guerra (República Dominicana), William Onyeabor (Nigeria), John Ozila (France), Merchant (Trinidad + Tobago), John Gibbs + The Us Steel Band Orchestra (Trinidad), Ahmed Fakroun (Libya) and more.