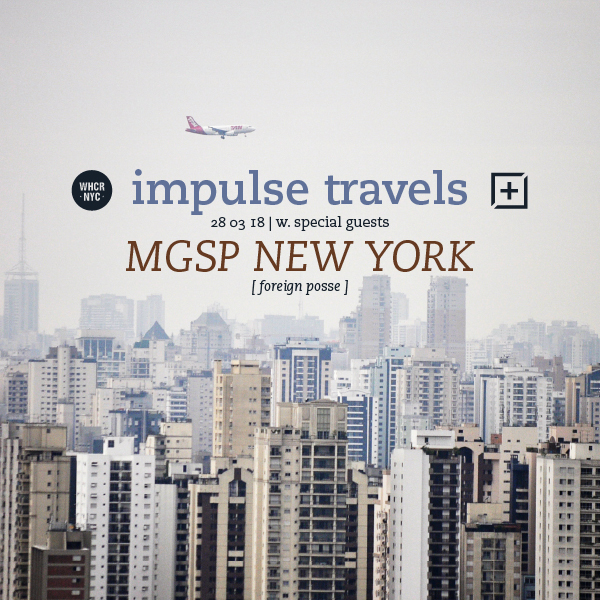 special guest: mgsp new york [ foreign posse | brasil | nyc ]
impulse travels radio. episode 291. 28 march 2018.
Check out the latest episode of DJ Lil Tiger and Empanadamn's Impulse Travels Radio Show on WHCR 90.3fm in Harlem and Traklife Radio in downtown L.A.

» OR DOWNLOAD HERE «
( pc: right-click and save as / mac: option-click )
photo: Pixotosco. São Paulo. | by Cassidy Curtis. licensed under a Creative Commons Attribution-NonCommercial 4.0 International License.
Our 3/28 episode features a guest Impulse mix by Brazilian New Yorkers Weli and Jimmy of MGSP new york [ Foreign Posse ], who blessed us with a mix of baile funk, house, and other dancefloor heat from across the globe.
You can check out MGSP New York's live mix below.
The show also features tunes from Thornato + Bajah (QNS + Sierra Leone), Peggy Gou (Berlin + Korea), Teleseen (BK), Sango + Jean Deaux (Grand Rapids + Seattle + Chicago), Birthday Boy + Trish (Toronto), The Pendletons (Sf), Gbm Nutron X Shal Marshall + DJ Wasim (Trinidad + NYC ), Chico Mann + Captain Planet (BK + Los Angeles + Jersey), The Goods (Australia) and more.