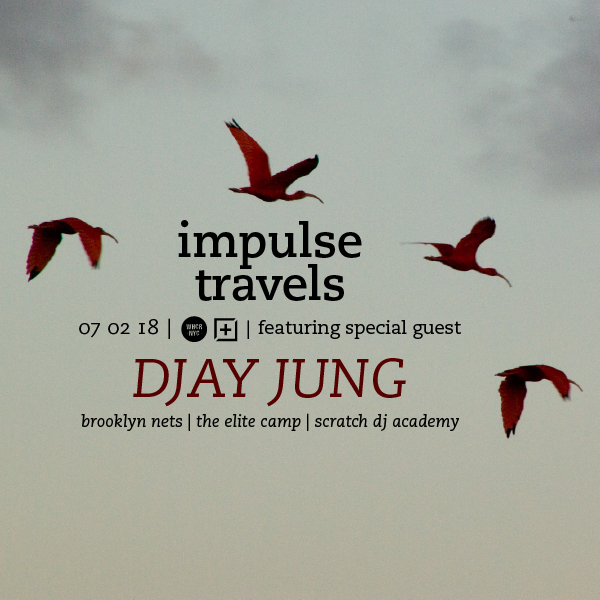 special guest DJ: djay jung [ official dj of the brooklyn nets | the elite camp | scratch dj academy ]
impulse travels radio. episode 285. 07 february 2018.
Check out the latest episode of DJ Lil Tiger and Empanadamn's Impulse Travels Radio Show on WHCR 90.3fm in Harlem and Traklife Radio in downtown L.A.

» OR DOWNLOAD HERE «
( pc: right-click and save as / mac: option-click )
photo: The Flight of the Scarlet Ibis. Trinidad and Tobago. | by Bas Leenders. licensed under a Creative Commons Attribution-NonCommercial 4.0 International License.
Our 2/7 episode features a live Impulse Mix from The Elite Camp's DJAY JUNG, who holds it down as the official DJ of the Brooklyn Nets and as an instructor at the Scratch DJ Academy. Austin's DJ MIKE SWING and DICK NICKSON also stopped by for a chat, as did our friends Elicia and Natalia.
The show also features new music from Tom Misch + Loyle Carner (UK), Kudo Kamome + Hamacide (Tokyo), Yaeji + Star Slinger (QNS + BK + Korea + UK), Mabel + Burna Boy + Kojo Funds + Don E (UK + Nigeria + London), Richie Campbell (Portugal), Beenie Man (Jamaica), Patrice Roberts (Trinidad), GBM Nutron (NYC + Trinidad and Tobago), Ravyn Lenae + Appleby (Chicago + Cleveland + Miami) and more.
You can check out DJAY JUNG's live Impulse Mix below, featuring music from the likes of Aaliyah, Outkast, Camp Lo, Stevie Wonder, Analog Players Society, StarRo, Esentrik, Donk, Daniel Crawford, Tall Black Guy, Pickster, Whiskey Barons, UGK and more.