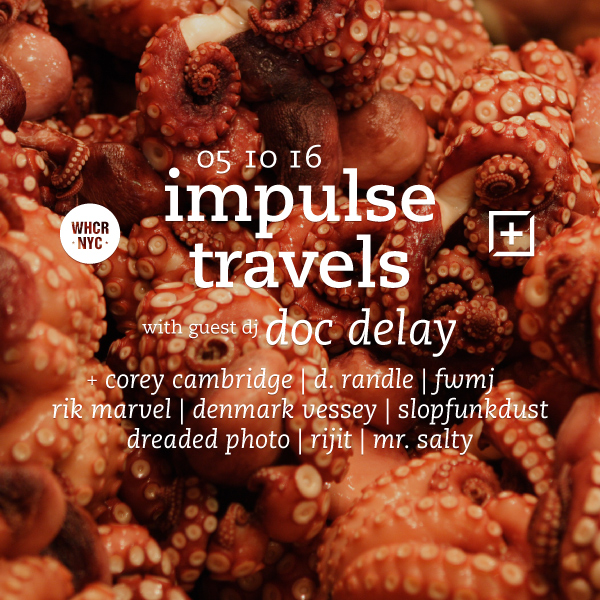 impulse travels radio. episode 229. 05 october 2016.
Check out the latest episode of DJ Lil Tiger and Empanadamn's Impulse Travels Radio Show on WHCR 90.3fm in Harlem and Traklife Radio in downtown L.A.

» OR DOWNLOAD HERE «
( pc: right-click and save as / mac: option-click )
photo: Octopus. Tokyo. | by mrhayata. licensed under a Creative Commons Attribution-NonCommercial 4.0 International License.
We had a packed house this week. The show features an all-vinyl live Impulse set by storied record collector, producer, DJ and all-around good dude DOC DELAY, a live performance by COREY CAMBRIDGE, and appearances by D. RANDLE of the K-Otix / Legendary K.O., FWMJ of Rappers I Know, RIK MARVEL, DENMARK VESSEY, SLOPFUNKDUST and DREADED PHOTO. The homies RIJIT and MR. SALTY also stopped through.
We featured the world premier of a new track from Brew + Kashmere Don + D.Randle (produced by Jett I. Masstyr) (Houston), some instrumental goodness from Rik Marvel (Germany) and music from Takuya Kuroda (Japan + NYC), Solange + Q-Tip (Houston + QNS), Alsarah + the Nubatones (Sudan + NYC), Kay + King Mason + Kashmere Don + Bel-Ami + The Niyat (Houston), Bunji Garlin (Trinidad), Dego + Kaidi (West London), Love Taps + Gale (NYC + Jamaica) and more.
You can check out DOC DELAY's Impulse set of eclectic international raer below, featuring songs from Orchestra Bennett Jazz National (Guinea), Marijata (Ghana), Kourosh Yaghmaei (Iran), Boris Gardner (Jamaica), Bacao Rhythm And Steel Band (Germany), Lệ Thu (Vietnam), Sweet Breeze (Nigeria), Okay Temiz (Turkey), A. Celentano (Italy), Aлла Пугачёва (Russia) and more.