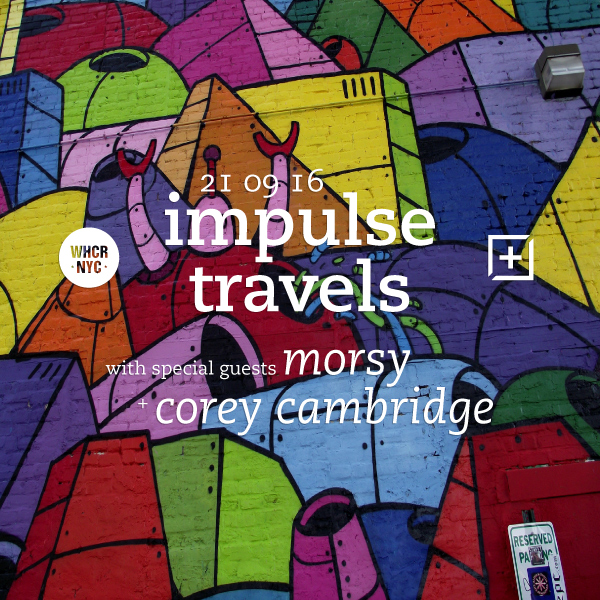 special guest: morsy ( strictly rhythm / nervous / jango ) + corey cambridge
impulse travels radio. episode 227. 21 september 2016.
Check out the latest episode of DJ Lil Tiger and Empanadamn's Impulse Travels Radio Show on WHCR 90.3fm in Harlem and Traklife Radio in downtown L.A.

» OR DOWNLOAD HERE «
( pc: right-click and save as / mac: option-click )
photo: Robots – detail. Richmond. Virginia. | by kozmicdogz2. licensed under a Creative Commons Attribution-NonCommercial 4.0 International License.
This episode features a live IMPULSE MIX from our good friend MORSY, featuring some fresh Afro / Soulful / Tech House, including one of his brand new productions. We also had guest MC COREY CAMBRIDGE, who helped hold down mic duties while LIL TIGER recovered from vocal cord surgery. COREY dropped a couple of his latest tunes on us as well.
The show features new music from NxWorries (Los Angeles), Corey Cambridge (BK + Richmond), Richie Quake (BK), Third Root + Da'Shade Moonbeam + Riders Against the Storm + Bavu Blakes + Vocab + Adrian Quesada + DJ Chicken George (San Anto + ATX + Laredo + Garland), Amber Mark (NYC), and Selah Sue (Belgium).
You can check out MORSY's Impulse Mix below featuring his latest collaboration with Brian Coxx (NYC) as well as tracks from Andyboi (South Africa), Skales (Nigeria), Tedd Patterson + DJ Spen + Tracy Hamlin (NYC + Bmore), Roland Clark (NYC + ATL), Jax Jones + Mike Dunn + MNEK (UK + Chi), Martin Waslewski + Purple Disco Machine (Germany), Kideko + George Kwali + Nadia Rose + Sweetie Irie (UK), Claptone + Jaw (Berlin + Barcelona + France) and more.