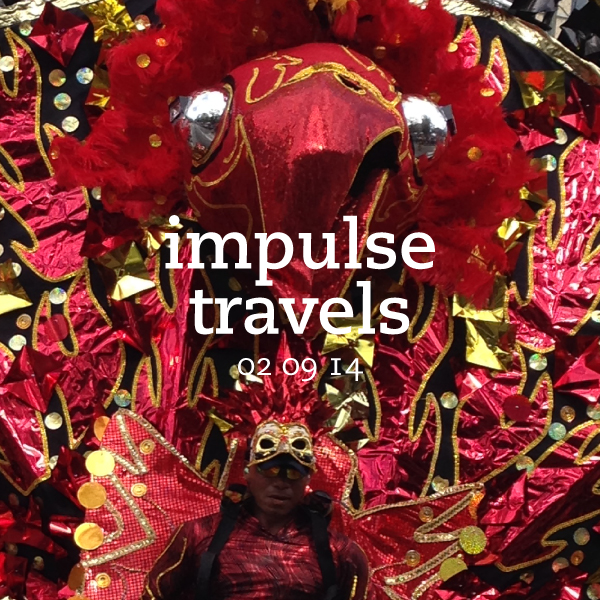 Check out the latest episode of DJ Lil Tiger and Empanadamn's Impulse Travels Radio Show on WHCR 90.3fm in Harlem and Traklife Radio in downtown L.A.
impulse travels radio. episode 147. 02 september 2014.
Audio clip: Adobe Flash Player (version 9 or above) is required to play this audio clip. Download the latest version here. You also need to have JavaScript enabled in your browser.

» DOWNLOAD HERE « ( pc: right-click and save as / mac: option-click )
photo: Labor Day Carnival. Brooklyn. NYC. | by dj lil tiger.
For our special Labor Day Leftover episode, we built on the Brooklyn Carnival vibes from earlier on the Parkway and put together two live Impulse mixes: a soca-inspired session by Lil Tiger and a Caribbean-influenced hodge podge of genres from Empanadamn.
The show also featured new music from Zero 7 (UK), Los Rakas (Oakland + Panamá), Tour de Force + Brother Culture + Adam Prescott (BK + UK), Kele (Liverpool + London), Flume + Stalley (Australia + Ohio) and Electric Wire Hustle (New Zealand), plus tracks from Kes the Band (Trinidad), Moon Boots + LCAW (Outer Space + Berlin), Chronixx (Jamaica), Detroit Swindle (Amsterdam) and more.
You can check out Lil Tiger's live Impulse mix below featuring tunes from Kerwin Dubois (Trinidad), Alison Hinds (Barbados), P-Square (Nigeria), Gregor Salto + Kuenta i Tambú (Amsterdam + Curaçao + Aruba), Busy Signal (Jamaica), Jamesy P (Saint Vincent and the Grenadines), Pascal Morais + Maikal X (Amsterdam + Haarlem) and QQ (Jamaica).
And check out Empanadamn's live Impulse mix here with songs from DJ Shadow (Davis), Vybz Cartel (Jamaica), Ben Tactic (Portland + KC), MNEK (London), Caribou (Canada), Elephant Man (Jamaica), Freqnik (NYC), Jacques Greene + Boyfriend (Montréal + Lithuania), Autograf (Chicago), T.O.K. (Jamaica), Aston Shuffle + Flume (Australia) and more.