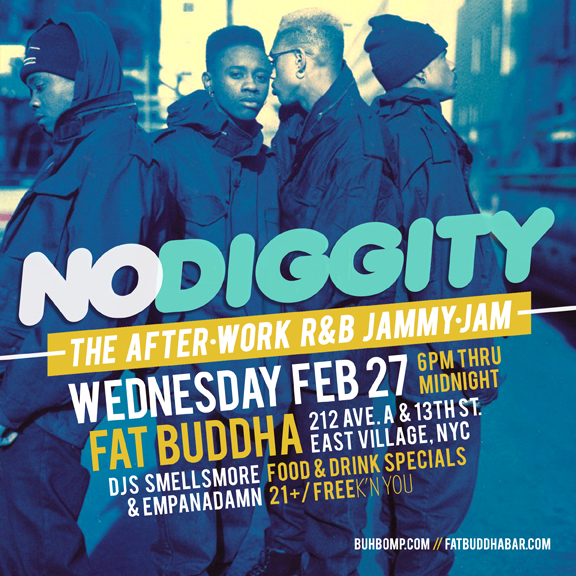 This Wednesday, February 27th marks the sophomore edition of NO DIGGITY – an after-work, R&B monthly. Think grown & sexy, nostalgic, social, and soulfully fun. We're talking about throwback jams from the 70s/80s/90s to contemporary radio and underground favorites. Everything from Anita Baker, Marvin Gaye, Aretha Franklin, Sade, Michael Jackson, Whitney Houston, Prince, Luther Vandross, Janet Jackson, Aaliyah, SWV, Mariah… to Alicia Keys, Frank Ocean, Little Dragon, Jessie Ware, Solange, Omar, Usher, Janelle Monáe, Wayne Wonder, Beyoncé… Soul classics, disco, slow jamz, hip-hop remixes, new jack swing, Atlanta Bass, pop, whatever goes… all wrapped into one seamless grove.
Tell your friends to tell their friends, so we can all be friends… enjoying the right mix of after-work relief, socializing, drinks, food & music. Mark your calendars and come groove with us this Wednesday. This one takes place at Fat Buddha, our new home located in East Village's Alphabet City.
NO DIGGITY, The after-work R&B jammy-jam! 
WEDNESDAY | 23 FEB 2013 | 6p-12a | FREE
@ Fat Buddha, 212 Avenue A, between 13th and 14th Streets
Alphabet City, East Village, NY, 10009
L train to 1st Ave » google | hopstop