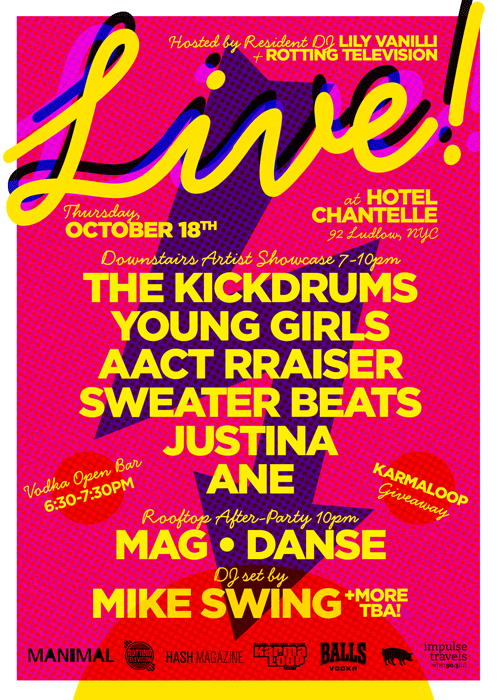 It's CMJ time in NYC once again, and our good friend LILY VANILLI has teamed up with Rotting TV to put together a killer FREE showcase of bands, producers and DJs this Thursday night at Hotel Chantelle.
The band/artist showcase kicks off downstairs in the main bar at 7pm, with Cleveland-bred, Brooklyn-based indie/alt/hip-hop production duo The Kickdrums, Houston garage-pop outfit Young Girls, Norwegian electronic lo-fi duo AACT RRAISER, New York wonderboy producer Sweater Beats, songwriter/rapper/vocalist Justina, and electro/pop/soul vocalist ANE.
The afterparty takes over the rooftop at 10pm with New York-based MCs MaG and Danse Daimons rocking alongside Austin shining-star (and buhbOmp homie) DJ Mike Swing and Chilean-born, Miami-based DJ Manuvers.
A gang of folks are co-sponsoring this bad boy, including MANIMAL, our good friends at Hash Magazine, The Interstellar Pig and our beloved Impulse Travels radio show. So much different kinds of good involved in this, it would be ridiculous to miss it.
Here's the info:
[[ CMJ LIVE! at HOTEL CHANTELLE ]]
hosted by LILY VANILLI + ROTTING TV
THURSDAY | 18 OCT 2012 | 6:30p-4a | NO COVER
@ Hotel Chantelle
92 Ludlow St
at Delancey
Lower East Side, NY, 10002
212.254.9100
J M or F train to Delancey-Essex » google | hopstop
Complimentary drinks from Balls Vodka from 6:30-7:30p. Giveaways all night via Karmaloop