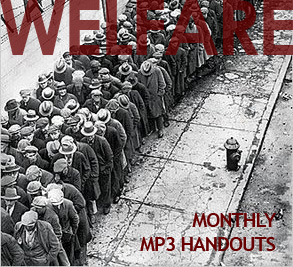 Every 1st and 15th of the month (so grab your welfare checks and come on) the dudes at buhbOmp and selected guest selectors (redundant?) present the top 5 cuts they/we are feeling at the moment. We're popping this cherry today (albeit a few hours late) with buhbOmp's own Cashless, Empanadamn and the Captain of this ship, Lil Tiger. So without further adoodoo, we present the first installment of Welfare.
—————————————————–
Jef Cashless | I have noodling tendencies while djing
Peedi Crakk – More Towels
As you can tell from previous posts, been feeling Peedi for a minute and this one's the hottest banger since "Take me home." Obviously, I'm not the only one feeling it. I won't include this cut in my download package since you can download this tune from Empanadamn's list.
T-Pain feat Lil Wayne – I can't Believe it (Dj Illo Bass Mix)
This song goes hard in the clurb plain jane, but up the bpm's to 114 and add some 808 bottom and the vibe changes from G&S to ass and titties.
Big Chief feat Jim Jones – My Swagg
The steady stream of Dallas artists blowing up seemingly outta nowhere and taking over the southern rap scene continues with Big Chief. This time with none other than the kufi-slapping cappo of the Dipset Skull Gang, Jimmy Jones.
T.I. et al – Swagger Like Us (Cobra Krames remix)
Sick of playing the OG? Well here you go.
Busy Signal – Strappings
Not sure of the riddim, but this is a must have for me. %100 rinse worthy! Holla at it!
download: Get you some…
—————————————————–
empanadamn | For the club | Serato ready with cue-points
Bramma – It's Whatever (Day Rave Riddim) download
Hollow-y / driving riddim x gruff / ghostly sounding vocals = Dancehalloween?
Colby O' Donis – Natural High (Feat. T-Pain) download
Dude looks like he rolls with Lee Hotti n' 'em, but this is a pretty good pop tune with some bass appeal and T-Pain hitting switches.
DJ Felli Fell – Feel It (Feat. Sean Paul, T-Pain, Flo-Rida & Pitbull) download
Song should be huge. It's got a full club feel with a full cast of your usual suspects for uptempo club bangerz.
Jadakiss – By My Side (Feat. Ne-Yo) download
As much as I hate the term "swagger", Jada is one dude truly embodies it vocally. It's nice he threw the ladies a bone joining forces with one of my favorite new R&B dudes. I predict big things for Jada.
Peedi Crakk – More Towels download
Great mid-tempo party track with a dash of funk that gives us a break from all the either slowed or fast synthy beats.
—————————————————–
dj lil tiger | 5 random-ass tunes that are doing it for me right now
Stiffed – What You Gon' Do
lead tune off Sex Sells ep. Early stuff from Santogold.
Raphael Saadiq – Big Easy
off his new The Way I See It lp.
Café Tacuba – De Acuerdo
off their latest album, SiNo. This group just makes me feel happy as shit.
The Lo – Lumdi (La)
latest Camp Lo hottness
Q-Tip – Gettin' Up
off his forthcoming The Renaissance solo lp. Saw him perform this live at Rock the Bells and it sounded superb.