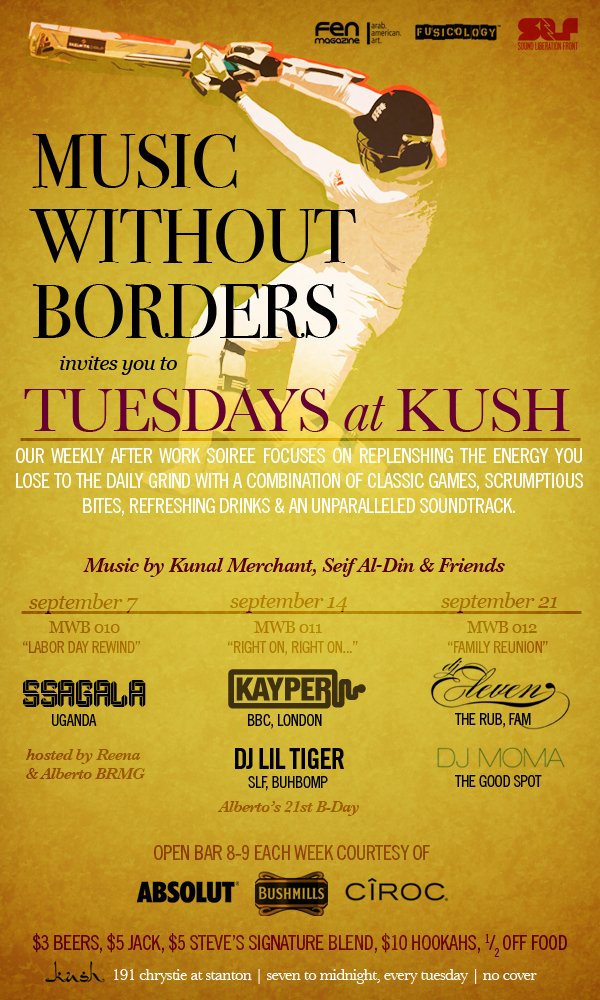 It's time for our monthly SLF collabo with our extended fam at Music Without Borders, and we've got something big in store for you.
This Tuesday at Kush in the Lower East Side, the incredibly skilled DJ KAYPER of BBC Asian Network will be in town all the way from London to be the featured guest DJ. Kayper is ill. Not only does she play dope tunes, but she's gifted on the cut. Peep some footage of how she gets down:
For more on Kayper, check out her full bio here.
I'll be throwing down a set on the international tip as well, and we'll be celebrating the birthday of The BRMG founder Alberto, one of the coolest motherfuckers on the face of this good earth. Residents Kunal Merchant and Seif Al-Din will hold it down on the decks as well.
After a long days work, come by for an evening of choice tunes, refreshing drinks and scrumptious grub! While you're listening to international grooves, take part in a series of classic games ranging from Dominoes to Connect Four to playing FIFA on a huge screen! We'll have everything in place, just come by prepared to battle!
Also we'll have an OPEN BAR from Ciroc from 8-9pm, so make sure you're in the house for that.
Music Without Borders Tuesdays at Kush starts early at 7pm and cools down around midnight. And again, it's NO COVER the whole night.
[[ MUSIC WITHOUT BORDERS: SOUNDLIB EDITION ]]
TUESDAY | 14 SEP 2010 | 7p-12a | NO COVER | No dress code
@ Kush Lounge
191 Chrystie St @ Stanton
Lower East Side
212.677.7328
F to 2nd Ave / J to Bowery
featuring special guests:
[[ DJ KAYPER ]]
( djkayper.co.uk, BBC Asian Network )
[[ DJ LIL TIGER ]]
( –=(] buhbOmp [)=–, Sound Liberation Front, touch&feel:radio )
and residents:
[[ KUNAL MERCHANT ]] + [[ SEIF AL-DIN ]]
( Music Without Borders )