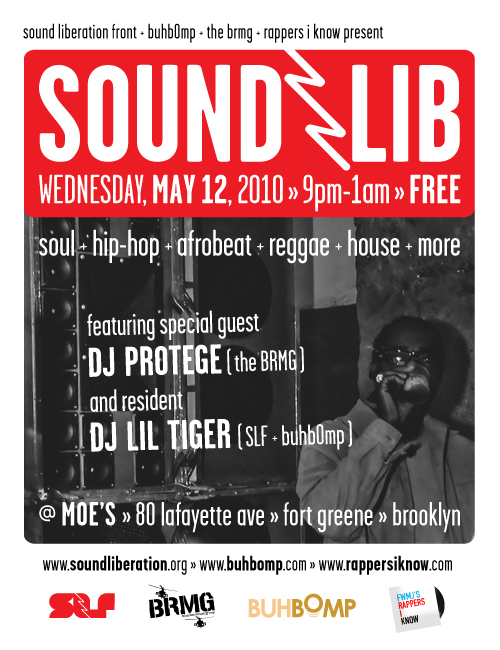 This week at SOUNDLIB, we've got super-talented DJ PROTEGE in town from Austin on a funk and soul mission. PRO has been putting in work in the Austin scene for more than a decade as one of the top party-rockers in the city. He's also made a name for himself with his beats, remixes and mix CDs, the latest of which, CORNER STORE HERO – VOLUME 2, you can download for free here:
¬ DOWNLOAD: DJ Protege – Corner Store Hero – Volume 2
I've been wanting to get this dude into SOUNDLIB for a minute, so it's a pleasure to showcase his skills for y'all this week. Y'all should def fall through. As always, the party is FREE, and goes from 9pm-1am. Hope to see you there.
==========
Sound Liberation Front + buhbOmp + The BRMG + Rappers I Know present:
[[ SOUNDLIB WEDNESDAYS ]]
WEDNESDAY | 12 MAY 2010 | 9p-1a | NO COVER | No dress code
@ Moe's
80 Lafayette Ave
Fort Greene, Brooklyn, NY, 11217
718.797.9536
C to Lafayette Ave / G to Fulton St
Also within walking distance from the Atlantic Ave station (B-Q-2-3-4-5 trains)
featuring special guests:
[[ DJ PROTEGE ]]
( The BRMG )
www.myspace.com/djprotege
and resident:
[[ DJ LIL TIGER ]]
( –=(] buhbOmp [)=–, Sound Liberation Front, touch&feel:radio, Soular Grooves )
+ facebook event page
+ going.com: www.going.com/soundlib_may12
+ eventful: bit.ly/bWJ4Zj
+ culturemob: bit.ly/bUY5HO
+ upcoming: bit.ly/bFC9Qv