23Sep2008
posted by:
cashless
| share this:



category:
Music
,
News
,
Video
1 comment.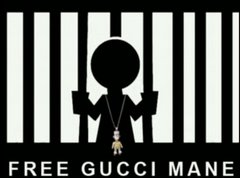 MTV blasts Gucci Mane's last interview before being hauled off to jail for a year for violating the terms of his probation stemming from a previous assault conviction. Since his release in 2006 Gucci Mane has completed no more than 25 of his 600 hours of community service. Mind you that Gucci barely got off an unrelated murder charge when he shot and killed rapper Henry Lee Clark III (Pookie Loc) in 2005. The charge was dropped as the grand jury in the case ruled the shooting was in self-defense.
What's the lesson here?
Don't push your luck.