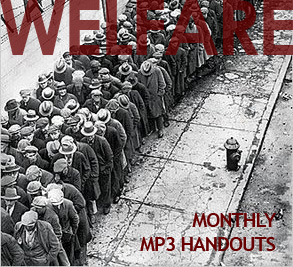 As promised, we're bringing a stronger effort from the team this time around, with Cashless and Empanadamn rejoining Lil Tiger to bring y'all some certified Welfare heat.
(Click the song names to take you to the off-site sharing pages where you can download the tunes. For detailed instructions on how to navigate the sharing sites where we host our files, we've got instructions at the end of this post)
cashless | WTF FML FTW
Rye Rye – Bang feat M.I.A
"I heard the song and I had to scream. They had [her] rhyming over a hyped drum machine". The jury's still out for me on this cut, but I'm throwing it up because Rye Rye's (no Ri Ri) lined herself up to take the hipster rap queen crown. Bet that.

U-N-I & Ro BLVD – Stylin
"Oh, you mad cuz I'm styling on you." Actually I'm not mad at "Stylin". I am bugging on how obviously Kanye West influenced the track is though. Also, did they diss The Knux? I hope so! Someone had to diss those talentless fools sometime.

Dj Class – I'm the ish feat. Kanye
I'm definitely not feeling the remix as much as I am the O.G. The Kanyelectro treatment scrubs away the hard B-More coat of the O.G. that I enjoyed. Whatever, blah. There's a Lil Wayne and Estelle remix coming soon too (via Estelle's twitter account). Look for "I'm the ish" to take up where "Day n Nite" left off. Becky, holleur.

UGK – Swishas & Erb feat. Sleepy Brown
Long live PIMP C. UGK4LIFE! What else needs to be said?

Eddie Kendricks – Date with the Rain (extended)
One of the OG steppers, Kendricks had a distinct voice that you can recognize from the first few notes. "Date with the Rain" is no exception. Presented in it's extended form. Peep how Spring this feels.

—————
dj lil tiger | cold be damned
Q-Tip – We Fight, We Love (Remix) feat. Kanye West and Consequence
Something new here from the suddenly prolific Q-Tip, with the ubiquitous 'Ye and the second-coming of Jarobi.

Deee-Lite feat. Q-Tip – Groove is in the Heart (Morsy Mix)
Sticking with the Q-Tip theme, Nanachill's DJ Morsy gives this dancefloor classic a subtle re-fresh.

Wayne Marshall – Blame De Weed
Because it had to be done. Wayne Marshall gives Jamie Foxx's Blame It a hit of that good shit.

Teedra Moses – I Think Of You
I think folks are sleeping on Teedra Moses. This is the tune that closes out her Complex Simplicity album from a few years ago, and it's a really touching and personal number. The actual song comes in at about the 1:40 mark, but Teedra's opening words and the snippet of gospel at the beginning give the song its proper context. This song makes me want to hug my mom and never let go.

Sam Cooke – Mean Old World
Just a beautiful tune from the master, Sam Cooke, off of his Night Beat album.

—————
empanadamn | Yeah Yeah Nos | Serato-ready
Wale "Chillin'" (Feat. Lady Caca)
After all the foot work in his Nike boots, Wale got signed to Interscope and is slated to release his album Attention Deficit this summer. A preview of the album, "Chillin'" features Lady Caca as she shits all over the track in her best M.I.A. impression. :*( Come on, dawg!!!

Jamie Foxx "Blame It" (Ted Smooth Blend Feat. T-Pain)
Here's a different take on a club favorite. Switch it up and get it crunk on dem hoez.

Cam'ron "Cookies & Apple Juice" (Feat. Bird Lady)
Killa! First with the compelling "I Hate My Job" and now this one, Cam is back. And it looked like a Dipset reunion was in the works when Jim Jones reached out to Cam on the Funk Flex show on Hot 97 with hopes of getting the crew back together and taking over. Cam responded with a negatory, and chunked a deuce out the roof of his Camborghini while driving away.

The-Dream "Let Me See The Booty (Feat. Lil' Jon)"
The litmus test for the shorty with the winning assets. Lil' Jon puts some extra sexy on it.

Lil' SNS "AIM So Crazy" (Feat. DJ Webstar)*
Son of Harlem's mixtape DJ S&S, Lil' SNS does his thang over a blitzkrieg of AIM sound bites courtesy of DJ Webstar. This one takes me back to the many lonely hours logged on AOL instant messenger before I discovered the sound setting preferences. Bound to give all the AIM heads / chatroom predators a seizure.

* We don't actually have a downloadable version of this tune yet, but we still wanted to put it on your radar anyway.
—————
Don't forget to check out our Welfare archives.
—————
** DOWNLOAD INSTRUCTIONS **
We host all our Welfare downloads off-site, so what you need to do to download them is to click on the song name in the post, and then look for a download link on the page that that takes you to.
We mostly use divShare, so for divShare follow these steps to download the songs:
- Click on the name of the song. That will take you to a divShare page.
- On the divShare page, look for the black circle with an arrow pointing down. Below that arrow is a link that says "Download original". Click that link and after a few seconds, the download should start automatically.
That should do it.
If the file is hosted on some other site besides divShare (like ZShare or MediaFire or something) then just look for a link on that site's page that says download. When you click on the download link, it will probably do something similar to divShare and make you wait a handful of seconds before it starts the download (or offers a specific link to the download).
Hit us up in the comments if you need further instruction. We're here to help. Thanks.