22Sep2008
posted by:
cashless
| share this:



category:
News
no comments yet.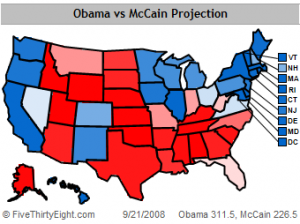 Reposted from FiveThirtyEight.com

Twelve to one.
For every twelve voters who you talk to at their doors, one voter goes and votes who would not otherwise have voted. If you're asking: "how can I be most effective in helping my candidate win the election?" then an organizer's answer is going to be: knock on doors.
In a Yale study by Donald Green and Alan Gerber on the effects of doorknocking in local elections, they concluded that a conservative estimate was that "12 successful face-to-face contacts translated into one additional vote."
This figure, moreover, is a conservative estimate. When calculating the effects of actual treatment, we regarded any conversation with a member of the household as a "contact." Only about half of these conversations occurred directly with a subject in the treatment group; the remainder involved urging a housemate to vote and requesting that this message be passed along to the intended subject. Had we restricted the definition of contact to direct conversations with the subject, the apparent effects of canvassing would have been much greater.
Although the study aimed at local elections, the principle is sound. Face-to-face contact is the single most important effort a volunteer can contribute to his or her candidate.