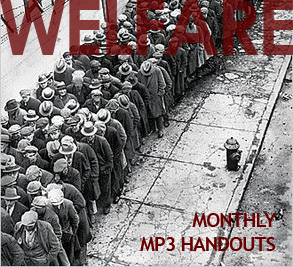 March is upon us and that means a lot of things – It's Spring (again), March Madness, bewaring the Ides of March (St. Ides or not), South By South West, Winter Music Conference, St. Patricks Day, Dentist's Day, Doctor's Day, Toast Day, and Tater Day. But more importantly, we're serving up our first installment of this month's WELFARE. Hopefully you'll find a little something in our offering to accompany your every day this March and beyond.
(Click the song names to take you to the off-site sharing pages where you can download the tunes. For detailed instructions on how to navigate the sharing sites where we host our files, we've got instructions at the end of this post)
empanadamn | Snow way
The-Dream "Walkin' On The Moon" (Feat. Kanye West)
I was a non-believer when I first heard The-Dream. Then I saw him perform at Hot 97's Summer Jam '08. Having a crew of hot, back-up dancers kinda helped seal the deal. At any rate, here's a cut off of the soon to be released, sophomore album Love Vs. Money.

The Foreign Exchange "Daykeeper" (Feat. Muhsinah)
I used to work in a law firm years back, and was on a project with a group of folks, one of which was a law student (again, cue Lost Boys' "Renee") whom I wrote off as an entitled b*tch because she was blonde, highly edumecated and, to top it off, attractive. The group conversation veered onto the topic of music, which I really don't enjoy talking about with the layman. A co-worker mentioned to blondie that I was a DJ, to which responded with much intrigue, asking about the type of music I was into, and so on. She nodded with agreement, and started rattling off her favorites which included bunch of R&B, soul, Okay Player affiliates, and the like. Homegirl was a sheep in wolf's clothing. At any rate, she recently hit me up and asked me if I heard The Foreign Exchange's album Leave It All Behind, and shared a few of her choice cuts. Coincidentally, they are performing this Sunday at Highline Ballroom in NY, so check them out.

The Rachels "Lloyd's Register"
I first heard The Rachels blaring inside the Sound Exchange (R.I.P.) in Austin, Texas on an afternoon when I probably should have been in class. I was captivated by the soul of the album, though delivered in modern classical form. I can't remember who was working at the time, but he turned me onto the group. This song is probably my favorite on the album, as it plays through a cycle of emotions leaving me with a lump in my throat.

Archie Whitewater "Cross Country"
I don't know how I acquired this one, but I'm glad I did. And somehow it always finds its way to my playlist set to shuffle. After talking to my mom this past Sunday telling me about the 80 degree weather for the week, it makes me want to be cross country. Peep the xylophone action.

Morcheeba "Fear & Love"
I found out about Morcheeba from a postcard that got mailed to my parents' home over summer break from college. On the postcard there was a small, blurry picture of a girl that looked like Björk. Hoping it was a side project of sorts, I HAD to investigate. I called a toll-free number on the postcard and heard a snippet of Trigger Hippie, the lead track for their debut album Who Can You Trust? and was sold. So, unrelated to the Icelandic pop star, two brothers with a jazzy-pop songstress carried the torch of the UK downtempo movement and was met with a positive response over yonder. I couldn't get with their 3rd album and beyond as they went for a polished pop style, and just felt too Gap for me.

—————
cashless | Spring Yang in this thang…
Geeneus – Peace of Heaven feat. Sacha
The first time I heard of Dubstep and UK Funky producer Geeneus was on the remix on DJ Wonder's "What (have you done for me lately)". He had an anthem with his remix to Benga & Coki's "Night". He hits my radar again (big shout to Dayta), with "Peace of Heaven" off his 2008 release, Volumes: One.

Marsha Ambrosius – Cloud 9
When Floetry broke up, that didn't stop Marsha Ambrosius from continuing to make good music (no G.O.O.D. Music). She's back at it with her latest mixtape, Truly Yours. Although I can't say that I enjoyed the mixtape in its entirety, I will say that "Cloud 9" is still that crack. Enjoy.

Drake – Successful feat. Trey Songz
Hi, internet. Can we stop talking about Drake yet? Obviously not. This gets major bumpage in the ride, even though I do turn it down really low when riding through the hood.

Erykah Badu – Real Thang (Astronote Remix)
So it's a new remix to a song that is in no way new. Who cares? Because when Astronote put his foot in it, it regained that new track smell.

Stevie Wonder – My Cherie Amor (Beatnik & K. Salaam remix)
For some reason when I first snagged this track, I coulda swore that said "Salaam Remi remix). My mind is playing tricks on me.

—————
dj lil tiger | is it spring yet?
Jay Sean – Tonight (Crazy Cousinz Remix)
Another fire remix from the Crazy Cousinz crew. (UK) Funky that I'm all about these days.

Shea Soul – Playing Tricks (Faeda Remix)
Another (UK) Funky tune for you, this one a sick soulful production from Faeda. Heavy broken house feel to this one. Love the vocals, too.

La Roux – In For The Kill (Skream's Let's Get Ravey Remix)
Props to Wesley and Elz for this one. They've been telling me about this tune for a while, and I finally got around to checking it out. The vocals really haunt me. Dubstep type shit with a throwback feel.

Erik Rico – Wonderful
Soulful uptempo stuff from the multi-talented singer, musician, producer Erik Rico, who has a very forward approach to soul music.

Gil Scott-Heron – Lady Day and John Coltrane
If you're in a funk, Gil Scott-Heron got the remedy for you. Classic tune from his brilliant Pieces of Man LP.

—————
jd | some springy ish — because I'm ready for it
Black Star – Respiration (Dr. Luke Remix)

Marvin Gaye – Music Feel the Soul

Three Times Dope – Mellow But Smooth

—————
Don't forget to check out our Welfare archives.
—————
** DETAILED DOWNLOAD INSTRUCTIONS **
We host all our Welfare downloads off-site, so what you need to do to download them is to click on the song name in the post, and then look for a download link on the page that that takes you to.
We mostly use divShare, so for divShare follow these steps to download the songs:
– Click on the name of the song. That will take you to a divShare page.
– On the divShare page, on the right-hand side, there should be a link that says "Download Original". Click that link.
– That will take you to another page that says something like "You will be redirected to the download page in 15 seconds". If you just wait a little while, the file will automatically download for you. Or, you can click on "Skip This Ad" at the top right of that page, and the file will start to download right away.
That should do it.
If the file is hosted on some other site besides divShare (like ZShare or MediaFire or something) then just look for a link on that site's page that says download. When you click on the download link, it will probably do something similar to divShare and make you wait a handful of seconds before it starts the download (or offers a specific link to the download).
Hit us up in the comments if you need further instruction. We're here to help. Thanks.