12Jan2009
posted by:
cashless
| share this:



category:
Misc.
,
Tricknology
6 comments.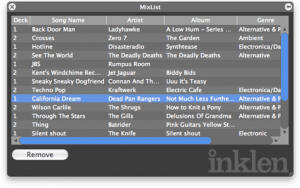 A few versions back the all knowing engineers over at Serato removed the ability to export your playlist from the "Review" option. You can have that functionality again with the help of Mixlist (OSX only).
I've used it only twice so far and I'm highly satisfied with the results. Peep game.
MixList is a small "plug-in" application to intelligently record and export your playlist from Scratch Live.

Export your playlists
MixList can export your playlist as either a CSV or XML file for quick and easy sharing between applications.

Intelligent playlisting
An intelligent algorithm lists only the tracks that you've played and not those which you have only previewed.

Transparent interface
MixList's interface can be transparent and can float over other application windows so you can easily monitor them.