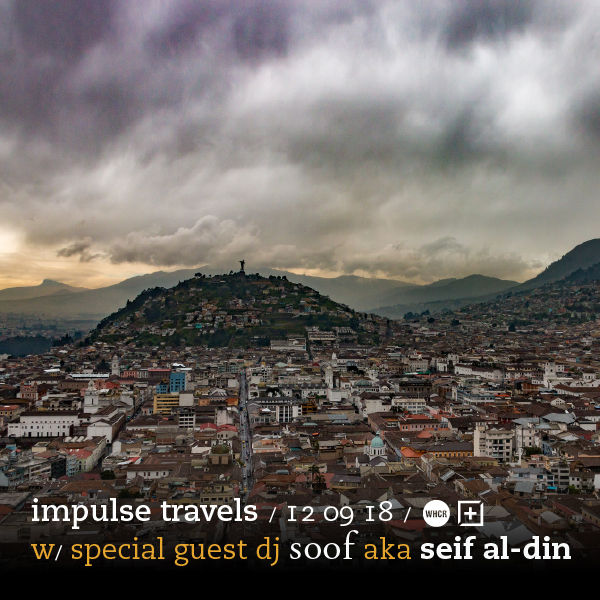 special guest dj: soof aka seif al-din
impulse travels radio. episode 313. 12 september 2018.
Check out the latest episode of DJ Lil Tiger and Empanadamn's Impulse Travels Radio Show on WHCR 90.3fm in Harlem and Traklife Radio in downtown L.A.

» OR DOWNLOAD HERE «
( pc: right-click and save as / mac: option-click )
photo: El Panecillo desde la Basílica del Voto Nacional. Ecuador. | by César Viteri Ramirez. licensed under a Creative Commons Attribution-NonCommercial 4.0 International License.
Our 9/12 episode features two live Impulse mixes by SOOF aka SEIF AL-DIN, plus music from Full Crate + Gaidaa (Amsterdam + Sudan), Mala Fama (Ecuador), Nonames + Alexa Harley (UK), Tekno (Nigeria), D-Felic (Den Haag), Chancha Via Circuito (Buenos Aires), Cosmo's Midnight + Woodes (Australia), Uji (Buenos Aires), Captain Planet (Los Angeles + BK), Bombino (Algeria), Molly Tigre (BK), Quantic (UK + BK), Río Mira (Ecuador + Colombia) and more.
You can check out Soof's first set below, featuring songs from Mr Eazi + Mo-T (Nigeria + South Africa), Chronixx (JA), Protoje (JA), Miss Meghna + Seif al-Din (Ohio + BK + Egypt), Shakka + Aluna George (London), Maleek Berry (UK + Nigeria), Buju Banton + Beres Hammond (JA), Runkus (JA), mOma + Guy (BK + Los Angeles + London), WSTRN + Tiwa Savage + Mr Eazi (West London + Nigeria) and more.
And here's Soof's second set, honoring the memory of Algerian great Rachid Taha who passed away earlier in the day. The mix also features music from K'naan (Somalia + Toronto), Josh + Rishi Rich (London), Les Nubians + Talib Kweli (France + BK), Lomaticc + Sunnybrown + Kardinal Offishal + Baba Kahn (London + Toronto), MC Solaar (France), Amadou + Mariam (Mali), Zaho + Soprano (Algeria + Montréal), Outkast + MWB (ATL + NYC + ATX + Ohio), Quantic + J-Boogie (BK + UK + Colombia + SF) and more.