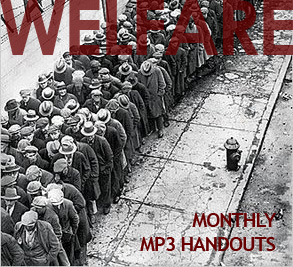 It's the dead of winter, and we're freakin' cold over here. But we've reached the month of love, and the buhbOmp crew is all about some love. So, to warm you up and help you get through these wintery days, we're back with another installment of mp3 downloads. The snuggie can't compete with this. …
(click the song names to download the tunes)
dj lil tiger | he was a king, she was a queen under the moonlight …
Taylor McFerrin – Broken Vibes feat. Vincent Parker
This has been out a while, but I don't get tired of it. Besides, more people need to be up on Taylor McFerrin's diverse talents. He's ill on the beatbox, vocals and beats. Beautiful, soulful tune. Check for the changeup.

Bukola – Hypnotised (Domu Remix)
Hypnotic beats with a touch of dancehall.

DKD – You Know It (feat. Bembe Segue)
A favorite midtempo broken number from a few years ago. DKD is the super collabo of Dego (4Hero), Kaidi Tatham and Daz-I-Kue. This is off their 2004 classic, Future Rage.

Incognito – Nights Over Egypy (MAW remix)
Masters at Work's monster rework of seminal UK band Incognito doing a cover of the Jones Girls' classic.

Telefon Tel Aviv – Nothing Is Worth Losing That
In memory of Charles Cooper. I remember when Melodic and I met these dudes after a Telefon Tel Aviv show in Austin a while back. Really nice dudes. Amazing music, too.

—————
empanadamn | I love her / I love her not | Serato-ready
Jazzanova "Look What You're Doin' To Me" (Feat. Phonté)
Put this one on a mixtape for the girl in your life and tell her to smoke it.

INOJ / Daft Punk "Make Love You Down" (Siik Blend)
I love both these tracks, and they work remarkably well together. 

J Dilla "Fall In Love" (Flying  Lotus Remix)
A reinterpretation of a Soulquarian classique.

Ryan Leslie "How It Was Supposed To Be" (Remix Feat. Jadakiss)
So some might assume that this track is alluding to the relationship that Leslie had with Cassie, before Diddy Burger Kinged her out, but who really knows. I try not to keep up with the hip-hop Days of Our Lives. Next to the fact of this featuring a couple of dudes who I feel are really doing it in the game right now are the throwback synths.

Hawthorn Mayer & The Country "Just Ain't Gonna Work Out" 
DJ Day put me on this last week. Apparently it was the song of the day at NPR (shouts to O-Dub).