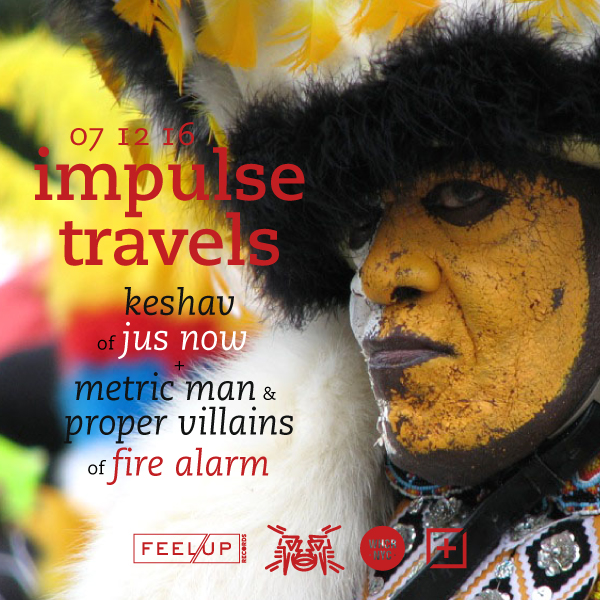 special guests: keshav of jus now ( uk / trinidad | feel up records ) + metric man and proper villains of fire alarm ( nyc + trinidad | feel up records )
impulse travels radio. episode 236. 07 december 2016.
Check out the latest episode of DJ Lil Tiger and Empanadamn's Impulse Travels Radio Show on WHCR 90.3fm in Harlem and Traklife Radio in downtown L.A.

» OR DOWNLOAD HERE «
( pc: right-click and save as / mac: option-click )
photo: yellow wild indian. Port of Spain. Trinidad. | by Nicholas Laughlin. licensed under a Creative Commons Attribution-NonCommercial 4.0 International License.
Caribbean vibes were strong this week, with Jus Now's Keshav (UK + Trinidad) joining Metric Man and Proper Villains from Fire Alarm (NYC + Trinidad) in the studio to discuss the diverse and fresh Caribbean-influenced sounds they've been releasing on Jillionaire's Feel Up Records.
Proper Villains also blessed us with a live Impulse Mix showcasing an arsenal of fire tunes both groups have been churning out, including tracks from Jus Now's forthcoming Way Up EP and two yet-to-be-released new tunes from Fire Alarm. Metric Man also spit some hot lyrics on the mic to give us a taste of that live Fire Alarm energy.
You can check out Proper Villains' mix and Metric Man's performance below.
The show also featured music from Machinedrum + D∆Wn + Daktyl (BK + Los Angeles + New Orleans), Kastle (Los Angeles), Gregor Salto + Kuenta i Tambú (Nederland + Curaçao + Aruba), P-80 (Halifax), Angela Hunte + Machel Montano (Trinidad) and more.