By: liltiger on: Sep 12,2008 In:
Events: Past
,
Lil Tiger
,
Music
,
NYC
,
Updates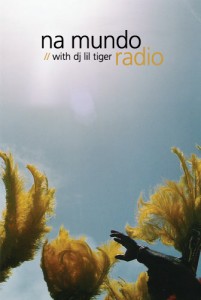 SATURDAY | 13 SEPTEMBER 2008
@ PNC Radio Studio
10 Jay Street — Suite 206
Brooklyn, NY 11201
We're throwing a launch party to celebrate DJ LIL TIGER's new internet radio show NA MUNDO RADIO on the Children of Da Curb Network. The show will feature soulful/cultural music from across the globe, with guest DJs, artist interviews and great music. LIL TIGER will be spinning at the party. There will be a cash bar for satisfying beverage needs.
The party is from 6-9 rain or shine at the PNC Radio studio on the Dumbo waterfront in Brooklyn. Great views of the Manhattan Bridge and lower Manhattan. FREE.
RSVP to rsvp@childrenofdacurb.com
featuring:
6p-9p | FREE FREE FREE | No dress code
subway directions: 
F Train to York Street. As you exit the York Street station onto Jay Street, go right on Jay Street and walk towards the water. We're the last building on the left hand side right where the street ends. When you enter the building, take the stairs on your left up one flight and we're in suite #206.
—=(] buhbOmp radio [)=— is back on track with the latest installment provided by DJ LIL TIGER.
After a long hiatus, Lil Tiger returns with a drum-heavy, beat-driven summer stew of hip-hop, funk, disco, house and soul:
Playlist: 
Four Kornerz » Gonna Make It
Meco » Other Galactic Funk
Sharon Jones and the Dap Kings » Keep On Looking (Kenny Dope Mix)
The Sugarman Three and Co. feat. Charles Bradley » Take It As It Comes (Afrodisiac Soundsystem Remix)
Sygaire and Defcon » Always For The Breaks
Un-Organization » It's Just Begun
Aleem » Release Yourself
Motor City Drum Ensemble » Raw Cuts #2
Amy Winehouse » Tears Dry On Their Own (Al Usher Remix)
U-Tern » Give It Up
Jimmy 'Bo' Horne » Gimme Some
Caress » Catch The Rhythm
Blackbyrds Interlude
Harvey Mason » Groovin' You (Morsy Mix)
Isley Brothers » Fight The Power (Timmy Regisford Shelter Remix)