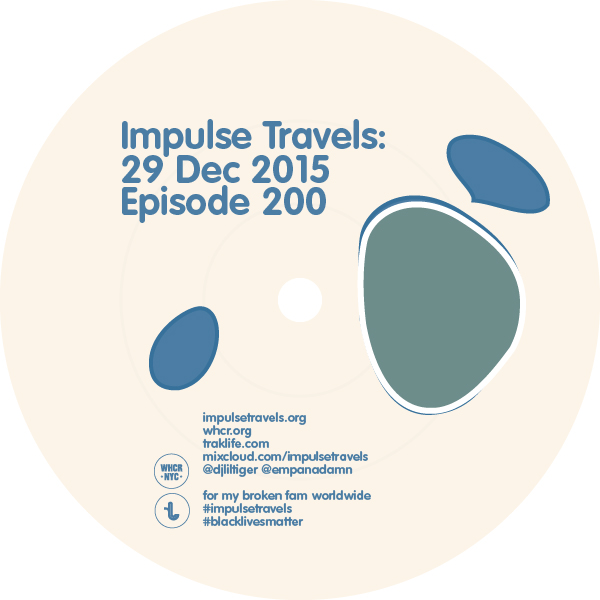 dedicated to my broken fam worldwide.
impulse travels radio. episode 200. 29 december 2015.
Check out the latest episode of DJ Lil Tiger and Empanadamn's Impulse Travels Radio Show on WHCR 90.3fm in Harlem and Traklife Radio in downtown L.A.
Audio clip: Adobe Flash Player (version 9 or above) is required to play this audio clip. Download the latest version here. You also need to have JavaScript enabled in your browser.

» OR DOWNLOAD HERE «
( pc: right-click and save as / mac: option-click )
The close of 2015, a tumultuous year of spectacular highs and soul-crushing lows, wasn't wonderful for me. My head has been a mess ever since I got back to New York in December, and the holidays didn't help the way I hoped they would. Already in a down mood, the heartbreaking (but sadly unsurprising) lack of indictment of Tamir Rice's murderer earlier in the day dampened my spirits even more. Prepping for the 2015 close-out show, remarkably enough our 200th episode, I felt broken. When I feel broken, music is my therapy, and I figured what better way to mend my broken spirit than with the music that has healed and inspired so much of me in the past: my beloved broken beat.
This one is definitely for my bruk heads, but it's also for anyone out there who just likes to vibe on good music. The show features tunes from the brilliant minds of 4Hero, Neon Phusion, IG Culture / New Sector Movements, Bugz In The Attic, Vikter Duplaix, Masters at Work, Swell Session, Herbert, Bembe Segue, Moonstarr, Restless Soul, Recloose and more. It's not 100% broken. There's some other stuff in there, too. But broken is the theme.
It's crazy to me that most of these songs are 10-15 years old.
Please keep in mind, this is not meant to be a "best of" or any kind of comprehensive representation of broken beat. It's just me playing some songs I found on my hard drives that I really loved back in the day, and still love so much now.
I don't even have most of my old broken favorites on mp3. I'm old. My bruk days were vinyl-based, but I wasn't trying to lug a bunch of vinyl from Brooklyn all the way up to the Harlem at 3am on a Tuesday morning. I've paid enough of those dues a thousand times over, and I wasn't up for it anyway. I feel no more pressure to be about that life. I got nothing to prove.
Not all the classics are here. And not all your favorite songs are here. And not all the great broken artists are represented. And that's okay. Your playlist may vary. Here's just a little something I put together because I was in a mood, and I needed something soothing for my soul to lift me back up. So relax, turn the volume up, and come dance with me and see what it's like on the other side of the universe.