By: cashless on: Sep 24,2008 In:
Music
,
News
By: cashless on: Sep 23,2008 In:
Music
,
News
,
Video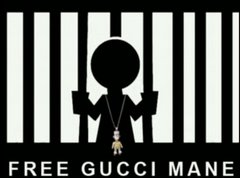 MTV blasts Gucci Mane's last interview before being hauled off to jail for a year for violating the terms of his probation stemming from a previous assault conviction. Since his release in 2006 Gucci Mane has completed no more than 25 of his 600 hours of community service. Mind you that Gucci barely got off an unrelated murder charge when he shot and killed rapper Henry Lee Clark III (Pookie Loc) in 2005. The charge was dropped as the grand jury in the case ruled the shooting was in self-defense.
What's the lesson here?
Don't push your luck.
By: cashless on: Sep 22,2008 In:
News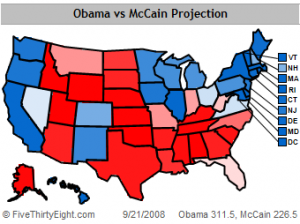 Reposted from FiveThirtyEight.com

Twelve to one.
For every twelve voters who you talk to at their doors, one voter goes and votes who would not otherwise have voted. If you're asking: "how can I be most effective in helping my candidate win the election?" then an organizer's answer is going to be: knock on doors.
In a Yale study by Donald Green and Alan Gerber on the effects of doorknocking in local elections, they concluded that a conservative estimate was that "12 successful face-to-face contacts translated into one additional vote."
This figure, moreover, is a conservative estimate. When calculating the effects of actual treatment, we regarded any conversation with a member of the household as a "contact." Only about half of these conversations occurred directly with a subject in the treatment group; the remainder involved urging a housemate to vote and requesting that this message be passed along to the intended subject. Had we restricted the definition of contact to direct conversations with the subject, the apparent effects of canvassing would have been much greater.
Although the study aimed at local elections, the principle is sound. Face-to-face contact is the single most important effort a volunteer can contribute to his or her candidate.
By: cashless on: Sep 19,2008 In:
Downloads
,
Mixes
,
Music
,
News
Big up to the dude King Most for blessing the intrawebs with an uplifting mix celebrating the historic nomination, campaign and eventual swearing in of the next president of the United States, Barack Obama. Enough of my thoughts, here's what King Most had to say about the mix himself:
The intent of this mix was to try and capture what WE'VE all been feeling these past months: hope, struggle, and the importance of facing a challenge. It also serves as a reminder, and perhaps an introduction to what OUR candidate is all about. With that being said enjoy, register, & get involved
History, Change, & Victory In November
-King Most
Intro/Smoked Sugar: I'm A Winner
Roy Davis Jr.: People Get Ready
Jackson 5: We're Almost There (DJ Spinna Remix)
Erykah Badu: Soldier (Sasaac Remix)
Masta Ace: Beautifull
Black Spade: We Need A Revolution
Skull Snaps: It's A New Day
Marvin Gaye & The Mizzel Brothers: We Are We Going?
James Brown: Mind Power
Antibalas: Si, Se Puede
Grandmaster Flash: The Message (Next Message Blend Version)
Dj Day: A Place To Go
Double Exposure: Everyman For Himself
Donald Byrd: Change Makes Ya Wanna Hustle
Stevie Wonder: Blackman (Kay Sputnik Re-Edit)
L.T.D.: Love To The World
Cymande: Bra
Pitbull: American War
The Dynamics: Move On Up
and big shouts to my dude Prince Aries of D2S for the graphics.